Honoree
Wilfred C. Bain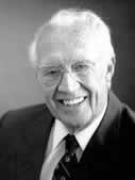 AWARDS
University Medal (1988)

80th Birthday Celebration
Location: Bloomington
Presenter: Thomas Ehrlich

Honorary Degree (1981)

D.Mus.
Doctor of Music
Commencement
Location: Bloomington
Presenter: John W. Ryan

BIOGRAPHY
No one has contributed more than Wilfred C. Bain to the development of Indiana University's School of Music. The years 1947-73 during which Dr. Bain was Dean of the School of Music witnessed its transformation from a regional institution to one internationally preeminent both in music education and in music performance. Indiana University's School of Music emerged as an institution unique in the world of music, boasting an outstanding program of instruction and an equivalent reputation for excellence in performance. This enviable record is in no small part due to the tireless energy and consummate skill of Dr. Bain as Dean of the School. His enthusiasm was always coupled with a complete dedication to the highest standards possible in education and in performance. During his tenure as Dean, Dr. Bain established doctoral programs in many fields of music, and he attracted to the faculty internationally-known musicians, scholars, and teachers. As one of the nation's foremost music educators, Dr. Bain helped establish one of the world's leading music institutions in the heart of the American Midwest. The depth of Indiana's pride in the Indiana University School of Music is a measure of our university's debt to Wilfred Bain.
Wilfred Conwell Bain was born on January 20, 1908 in Shawville, Quebec. He first came to the United States in 1918, married Mary Freeman on July 1, 1929, and in 1940 became a naturalized U.S. citizen. Graduating with an A.B. from Houghton College in 1929, Wilfred Bain went on to Westminster Choir College, from which he graduated in 1931 with a bachelor's degree in music. He attended New York University for graduate work, earning an M.A. in 1936 and a doctorate in 1938. His professional appointments before coming to Indiana University in 1947 as Dean of the School of Music included serving as head of the music department, Central College, South Carolina (1929-30), head of voice and choral music at Houghton College (1931-38), and Dean of Music, North Texas State University (1938-47). Twenty-six legendary years later when he retired as Dean of Indiana University's School of Music in 1973, Wilfred Bain maintained his active participation in the School of Music by assuming the Artistic Directorship of the IU Opera Theatre.
Throughout his professional career, Wilfred Bain has served the music world beyond even his considerable academic administrative achievements. He has held office in several major national organizations, including Vice-President of the National Association of Schools of Music, President and Secretary of the Music Teachers National Association, committee member of the Central Opera Service and of the Metropolitan Opera National Council, President of the American Friends of Bayreuth, and member of the Berkshire Music Center Advisory Committee. In addition, Dr. Bain has served as a member of the Governor's Commission on the Fine Arts and of the United States Information Agency's Music Advisory Panel, of which he was chairman. He also served as a member of the Examining Board of the North Central Association, the Board of Trustees of Westminster Choir College, and the National Council on the Arts and Government. At the present time, Dr. Bain is a member of the board for the Master Teacher Institute for the Arts, and is Vice-President of the Civic Opera Society of Palm Beach, Florida. He also remains active as a consultant.
Indiana University recognizes Wilfred Bain today with an Honorary Doctorate in Music. Ours is not the first institution to honor his talents and achievements. He has also received a Gold Medal from the National Society of Arts and Letters, Eugene Ysaye Foundation Medal (from Belgium), and the Certificate of Merit from the Indiana Higher Education Music Administrators Association. To these awards he has added Honorary Doctorates of Music from the American Conservatory (1951), Temple University (1962), and Westminster Choir College (1965).