Honoree
Patrick O'Meara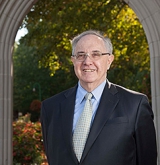 AWARDS
Bicentennial Medal (2019)
President's Medal for Excellence (2011)

Patrick O'Meara Distinguished Lecture
Location: Bloomington, Indiana
Presenter: Michael A. McRobbie

Thomas Hart Benton Mural Medallion (1994)

Year-End Review Meeting
Location: Bloomington, Indiana
Presenter: Thomas Ehrlich

John W. Ryan Award for Distinguished Contributions to International Programs and Studies (1993)

Indiana University Bloomington
School of Public & Environmental Affairs

BIOGRAPHY
Patrick O'Meara, who came to Indiana University in the 1960s, earned his doctorate at IU and has been a political science professor as well as a dean and vice president. As IU's first vice president for international affairs, he led the creation in 2008 of the International Strategic Plan, which focuses on increasing IU's presence throughout the world, strengthening its strategic international partnerships, attracting new international students and ensuring that IU students are prepared for the global economy.
A renowned scholar of international development, comparative politics and African politics, in particular, and former director of the African Studies Program at IU Bloomington, O'Meara has published a number of books, including the classic textbook, AFRICA, a standard text used by nearly 100 colleges and universities around the world. O'Meara has received numerous international honors, including the Cross of St. George awarded in Spain; the Warsaw University Medal; the Amicus Poloniae from the Embassy of Poland; an honorary doctorate from National Institute of Development Administration in Thailand; and the Gold Cross of Merit of the Republic of Hungary.
In 2005, on behalf of IU, he received the Higher Education Prize from the Goldman Sachs Foundation for "superior achievement in engaging students in learning about other world regions, cultures and languages." IU has awarded him the Thomas Hart Benton Mural Medallion, the IU John Ryan Award, the President's Medal for Excellence award and the IU Distinguished Service Award.