Honoree
Vorasak Pienchob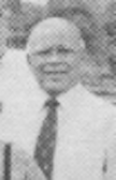 AWARDS
School of Public Health Mobley International Distinguished Alumni Award (2005)

Indiana University Bloomington
School of Health, Physical Education & Recreation
B.S. 1960, M.S. 1961, M.S. 1962

IUAA President's Award (1999)
Thomas Hart Benton Mural Medallion (1997)

Alumni Reception
Location: Bangkok, Thailand
Presenter: Myles Brand

BIOGRAPHY
Vorasak Pienchob is one of the most well-known authorities in physical education and sport science in Thailand. His leadership at Chulalongkorn University led to the development of a program to train physical education teachers, the first department of its kind in the country. Today, up to 400 students are enrolled in the unit, now a School of Sport Science, each year. The school offers bachelor's, master's, and doctoral degrees.
Pienchob received a diploma from the College of Physical Education in Bangkok and earned four degrees from Indiana University: bachelor's, master's, and doctoral degrees in physical education, and a master's degree in education. Pienchob founded the Thai Association of Health, Physical Education, and Recreation, in which he served as general secretary and president. He also founded the Committee of Sport Psychology of Thailand.
Since retiring from Chulalongkorn University 16 years ago, Pienchob has remained active as a lecturer, speaker, curriculum consultant, and an overall resource to current administrators and faculty at the school. He has received the President's Award and Thomas Hart Benton Mural Medallion from IU and an honorary doctorate from Chulalongkorn University, and he has recently helped form Thailand's Indiana University Alumni Association.