Honoree
Curtis R. Simic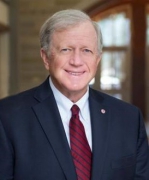 AWARDS
IUPUI 50th Anniversary Chancellor's Medallion (2019)

IUPUI 50th Anniversary Chancellor's Medallion
Location: Indianapolis, Indiana

Honorary Degree (2016)

L.H.D.
Doctor of Humane Letters
IU Bloomington Honors Convocation
Location: Bloomington
Presenter: Michael A. McRobbie

Distinguished Alumni Service Award (2012)
University Medal (2008)

Retirement
Location: Bloomington, Indiana
Presenter: Michael A. McRobbie

Thomas Hart Benton Mural Medallion (1994)

Year End Review Meeting
Location: Bloomington, Indiana
Presenter: Thomas Ehrlich

BIOGRAPHY
Curt Simic, a native of Gary, Indiana, and a graduate of Kouts High School, graduated IU in 1964 with a B.S. in Physical Education from the School of Public Health. While a student, he not only discovered his life's work, but his career clearly demonstrates how he has shaped the world of higher education philanthropy through his work and his contributions to the profession.
Simic is recognized as a national leader in fundraising for higher education and, in his more than 40-year career, he has served served at Yale University and the universities of Tennessee, Alabama, Oregon and California-Berkeley, before returning to IU as president of its foundation in 1988. The recipient of many awards and honors, Simic is a presenter and author on development topics and has been an advisor and consultant to many colleges, universities and non-profit organizations. He spent 13 years as the head of IU's official fund-raising agency, and in that time, gifts from the private sector increased from $37 million to more than $230.1 million in fiscal 2001, and the number of donors grew from nearly 63,000 to nearly 100,000. Since 1990, IU has consistently ranked among the top 20 universities in the nation in total voluntary support from the private sector. It also became one of the top 15 among public universities in the market value of its endowment.
Simic helped found the National Committee for Institutionally Related Foundations, now a part of the Council for the Advancement and Support of Education (CASE), and served on CASE's National Board of Trustees. For many years, he was a faculty member and then dean of the Big Ten Fundraisers Institute. In 2010, he was honored by CASE with its Lifetime Achievement Award. CASE has more than 80,000 members worldwide and nearly 3,400 institutional members. The Lifetime Achievement Award honors individuals whose professional accomplishments have made a significant and lasting impact on the field of higher education advancement and whose life and character have earned the respect and admiration of their colleagues.
Through the years, IU has recognized Simic in many important ways. In 1994, presiding President Thomas Ehrlich honored Simic with the Thomas Hart Benton Mural Medallion. In 2008, President Michael McRobbie awarded Simic with the University Medal, and in 2012, Simic was the recipient of the Distinguished Alumni Service Award. Simic's most recent achievement, however, came in 2016 when Indiana University awarded him with an Honorary Doctor of Humane Letters at its Bloomington campus Honors Convocation, for his outstanding achievement in the arts and humanities, and for his continued community engagement and public service.