Honoree
J. Terry Clapacs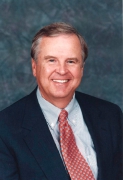 AWARDS
Bicentennial Medal (2019)
Distinguished Alumni Service Award (2015)
University Medal (2009)

Retirement
Location: Bloomington, Indiana
Presenter: Michael A. McRobbie

IU Foundation President's Medallion (2009)
IU Foundation President's Medallion (2002)
Thomas Hart Benton Mural Medallion (1994)

Year-end Review Meeting
Location: Bloomington, Indiana
Presenter: Thomas Ehrlich

BIOGRAPHY
J. Terry Clapacs has been at IU since his freshman year of college in the early 1960s. He received his undergraduate degree in 1965. Before he finished his MBA in 1968, he started working full-time as a staff member for the University. After graduation, Clapacs never left.
IU Foundation President Emeritus Curt Simic met Clapacs when they were both students. When Simic was the foundation's president from 1988 to 2008, the two worked together in securing money to fund beautification projects, such as the Herman B Wells statue and flower beds throughout campus. Clapacs saw the University's need to be functional, but also inspirational, even with a structure like the Atwater Parking Garage. "When you see the end of that garage, it's a beautiful-looking building," Simic said. "You'd never know it's a parking garage."
Terry is credited with carrying on the work of the legendary IU Chancellor Herman B Wells in preserving and enhancing the beauty of the IU Bloomington campus. He has initiated and overseen dozens of campus beautification projects, as well as guiding the design and construction of many award-winning structures on campus. Terry has been a key proponent and supporter of the Physical Plant department over the years, and he also led the formation of two new IU campuses: New Albany and Richmond. Clapacs additionally served as athletic director from 2002 to 2004 and continued to do his job as chief administrative officer, which required a lot of hours and seven days a week to do the job.
Vice President and Chief Administration Officer Terry Clapacs retired from IU in June 2009 after a career of over 40 years. Colleagues and friends state that his contributions over the last four decades are incalculable. His commitment to the vision of this university is simple unsurpassed. "It is virtually impossible to look at any Indiana University campus without seeing the impact of Terry Clapacs," says IU President Michael A. McRobbie. "All of us at IU owe Terry our deepest gratitude for his tireless efforts, years of outstanding service, and unwavering commitment to the university's future success."