Honoree
Richard A. Enberg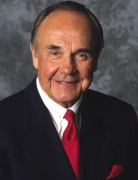 AWARDS
Distinguished Alumni Service Award (2012)
IUB Athletics Hall of Fame (2006)
Emmy Award (2005)

Outstanding Writing

Honorary Degree (2002)

L.H.D.
Doctor of Humane Letters
Commencement
Location: Bloomington, Indiana
Presenter: Myles Brand

Emmy Award (2000)

Sports Lifetime Achievement

Thomas Hart Benton Mural Medallion (1999)

Enberg Room Naming Ceremony HPER
Location: Bloomington, Indiana
Presenter: Myles Brand

Emmy Award (1993)

Outstanding Sports Personality, Play-by-Play

Emmy Award (1990)

Outstanding Host or Play-by-Play

School of Public Health W.W. Patty Distinguished Service Award (1986)

Indiana University Bloomington

Emmy Award (1983)

Outstanding Host or Play-by-Play

Emmy Award (1981)

Outstanding Host or Play-by-Play

BIOGRAPHY
"Oh my!" is the trademark phrase we might expect from Dick Enberg over this latest distinction bestowed upon him. Organizations, colleges, universities, and corporations have lauded Enberg with honor after honor. His abilities have garnered him 15 National Sportscaster Awards, the Victor Award (for the best sportscaster for the past 25 years), the Ronald Reagan Media Award, an NFL Press Box Award, a National Basketball Hall of Fame Curt Gowdy Award, and 13 Emmys. He is the only Emmy winner to win for sportscasting, writing, and producing, and in 2000 he won an Emmy for Lifetime Achievement.
Enberg graduated magna cum laude as the class president at Central Michigan University in 1957, which he followed with master's degree and doctorate in health education at Indiana University. He earned his doctorate in 1962. His broadcasting career officially began in 1956, when he was a junior at CMU. He took a position as a weekend disk jockey at a local radio station, though he had applied to be a janitor. When the station's sports director left, Enberg took over a nightly sports show and the play-by-play announcing for all football and basketball games. In this position he made use of a special gift - the ability to shape what he sees with an eye toward gently edifying and explaining.
While pursuing his graduate work, Enberg was the first student announcer on the IU Sports Radio Network. His broadcasting and academic careers began to overlap when the professor in an upper-level statistics class fell ill, and Enberg stepped in. Tony Mobley, dean of the Indiana University School of Health, Physical Education, and Recreation, recalls that Enberg "served as an outstanding associate instructor in the class and, on taking it over, demonstrated considerable talent in that area." As graduation neared, Enberg envisioned joining the IU faculty and pursuing broadcasting part time. Instead, San Fernando State College (now California State University, Northridge) offered him a position as an associate professor and assistant baseball coach. He took the job but continued to work in broadcasting on the side. Weekend stints on TV and radio stations around Los Angeles led to a hosting job on a weekly boxing program for NBC affiliate KTLA. The show soon became the city's highest-rated Thursday evening program.
After the broadcast of a major basketball game between UCLA and Houston, NBC management decided that Enberg was ready for a national audience and increased the number and variety of games he would announce. Over his career, his play-by-play assignments have included eight Super Bowls, nine Rose Bowls, six Orange Bowls, one World Series, three Ryder Cups, six NCAA basketball Final Fours, twenty Wimbledon championships, a Breeder's Cup, four Olympic Games, gymnastic and figure skating competitions, and countless NBA playoff and all-star games. Throughout his career, Enberg has displayed an amazing versatility, covering every sport imaginable. It is no wonder then, that at NBC he was referred to as the network's "decathlete." Enberg is now in his second year with CBS-TV Sports. He teams with Dan Dierdorf for National Football League telecasts and with John McEnroe and Mary Carillo for U.S. Open tennis coverage. He also continues to cover NCAA basketball - including the Hoosier men's basketball team's recent appearance in the Final Four - and offers his Enberg essays at the Masters and PGA golf championships.
Drawing on a lifetime of public speaking experience, Enberg recently authored a best-selling book titled Dick Enberg's Humorous Quotes for All Occasions.
Trevor Brown, dean of IU's School of Journalism, says Enberg "is a master - perhaps the master - of play-by-play reporting. He studies, prepares, and thinks about his craft as a play-by-play reporter much as a first-rate scholar and teacher prepares for a class." Mobley adds that Enberg is "virtually without peer when one considers his combination of academic achievement and international popularity in the broadcasting field." Since completing his graduate work at IU, Enberg has contributed to this university in many ways, including his most recent contribution, a five-year commitment to support the new Dick Enberg Distance Learning Studio on the Bloomington campus.
What sets this icon apart is respect for his viewers, for the sports he covers, and for the sense of possibility that athletics can instill in the professional athlete, and in us all. "He is entirely convincing in his insistence on the importance of education for all citizens, and particularly for athletes," Brown says. True to that claim, Enberg has served since 1985 as the spokesperson for the GTE Academic All-American program, which highlights the importance of maintaining balance in academics and athletics to prepare for a successful life. He was also the first recipient of the National Basketball Hall of Fame's Enberg Award, which honors lifetime achievement in education and athletics.
Spent 25 years with NBC Sports, beginning in 1975 as the play-by-play announcer for college basketball. One of the most versatile play-by-play announcers in sports broadcasting, Enberg has taken on assignments including NFL football (39 seasons), the Super Bowl (nine times), the Rose Bowl (nine times), the Orange Bowl (six times), the Olympic Games (1972, '88, '92, '96), the American and National League Playoffs, the World Series, the French Open (19 times), Wimbledon (22 times), the U.S. Open Tennis Championship (six times), the PGA Championship (three times), the U.S. Open Golf Championship (five times), the Ryder Cup (three times), the NBA Playoffs and All-Star Game and the NCAA Men's Basketball Championship (ten times).
Before joining NBC, was named California Sportscaster of the Year four times. Has earned a series of national honors, including 14 Emmy Awards, received the 2000 Lifetime Achievement Emmy Award, the 1995 National Basketball Hall of Fame's Curt Gowdy Award, the 1999 Pro Football Hall of Fame's Pete Rozelle Award, nine Sportscaster of the Year awards, the Ronald Regan Media Award, the Victor Award as the top sportscaster of the past 25 years. Only person to win national Emmy Awards as a sportscaster, writer and producer. In 1998 he became only the fourth sportscaster to be honored with a star on the Hollywood Walk of Fame. Is the author of two bestsellers, "Dick Enberg's Humorous Quotes for All Occasions," and "Dick Enberg Oh My!"
Has been the national spokesperson for the Academic All-American program for 20 years and was inducted into its Hall of Fame in 1997. Received his Masters and Doctorate at Indiana University, and in 1958 was the first "Voice of the IU Sports Network."