Honoree
Haydn Murray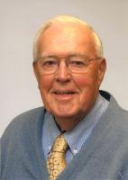 AWARDS
Honorary Degree (2004)

D.S.
Doctor of Science
Commencement
Location: Bloomington
Presenter: Adam William Herbert

National Academy of Engineering (2003)

National Academy of Engineering
Department of Earth and Atmospheric Sciences

Bill Orwig Award (1996)
Thomas Hart Benton Mural Medallion (1994)

Benton Presentation
Location: Bloomington
Presenter: Thomas Ehrlich

BIOGRAPHY
Haydn H. Murray, elected to National Academy of Engineering, USA, and also the Chairman of the Board of Directors of MinTech International, Inc., is an internationally renowned expert in the industrial minerals field. Dr. Murray brings many years of experience in industrial minerals and business operations to MinTech International, Inc.
He was professor of geology at Indiana University for more than twenty-five years and served as Chairman of the Department of Geological Sciences for twelve years. He was president of AIPEA (International Clay Minerals Society) from 1993 to 1997. At Georgia Kaolin Company (then the largest kaolin company in the United States) from 1957 to 1973 he held senior positions in research and operations and served as Executive Vice President from 1964 to 1973.
The numerous honors and awards that he has received have shown that he is and has been a key figure in the world industrial minerals areas.