Honoree
Thomas E. Davis, Jr.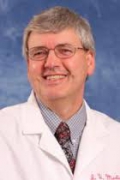 AWARDS
Titled Professor (2005)

Culbertson Professor of Pathology
Indiana University Purdue University Indianapolis (IUPUI)
School of Medicine
Department of Pathology & Laboratory Medicine

BIOGRAPHY
Dr. Davis' laboratory's current research is in several areas of applied clinical microbiology; including rapid detection of septicemia; diagnosis of sexually transmitted diseases using amplified nucleic acid probes. The lab's current project is a characterization of bacteria using Denaturing High Performance Liquid Chromatography (DHPLC).