Honoree
Renato Dulbecco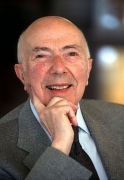 AWARDS
President's Medal for Excellence (2011)

Luncheon
Location: La Jolla, CA
Presenter: Michael A. McRobbie

Honorary Degree (1984)

D.S.
Doctor of Science
Jordan Hall Dedication
Location: Bloomington
Presenter: John W. Ryan

Nobel Prize (1975)

Nobel Prize in Physiology or Medicine

BIOGRAPHY
Italian-American virologist Renato Dulbecco is renowned for many discoveries, including his contribution to the finding that tumor viruses cause cancer by inserting their own genes into the chromosomes of infected cells, which was among the first clues to the genetic nature of cancer.
A native of Catanzaro, Italy, Dulbecco studied medicine at the University of Torino and later served as a medical officer in the Italian army during World War II. He was wounded in Russia in 1942, hospitalized, and sent home. When Mussolini's government collapsed and Italy was taken over by the Germans, Dulbecco joined the resistance movement against the Nazis.
Following the war, he came to the United States at the urging of his former classmate, Salvador Luria, who was conducting research at Indiana University. He and Luria shared a lab on the Bloomington campus, where they studied viruses. They were joined by a graduate student, James Watson. Dulbecco also studied with Hermann Muller, whom Dulbecco credits for teaching him the significance of genetics. While at IU, Dulbecco discovered the photoreactiviation of phages that had been inactivated by ultraviolet light. His work quickly attracted the attention of Max Delbruck at the California Institute of Technology, where Dulbecco continued his study of viruses. He and his graduate student Howard Temin would later share the 1975 Nobel Prize in Physiology or Medicine with David Baltimore "for their discoveries concerning the interaction between tumor viruses and the genetic material of the cell."
From 1963 to 1972, Dulbecco was a founding fellow of the Salk Institute for Biological Studies in La Jolla, California. He spent five years as deputy director of the Imperial Cancer Research Fund Laboratories in London and then returned to the Salk Institute as a distinguished research professor. In 1986 he initiated the idea of studying human genes, which led to the Human Genome Project.
Dulbecco served as president of the Salk Institute from 1988-1992. In 1990 he became director of the Italian Group of the Human Genome Program at the National Research Council of Milan, Italy. His later research has focused on the tumors of the breast using monoclonal antibodies.
In 2005 the Salk Institute established the Dulbecco Laboratories for Cancer Research to highlight his many achievements in the field. In 1984 Dulbecco received an honorary degree from IU, and in 2011 he was honored with the President's Medal for Excellence, presented by IU President Michael A. McRobbie.
Dulbecco died in February 2012.