Honoree
Alan B. Gilman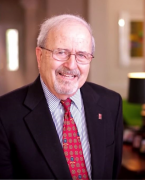 AWARDS
Bicentennial Medal (2019)
Presidents Circle Laurel Pin (2013)

Fellow

Partners in Philanthropy (2012)

Herman B Wells Visionary Award

Distinguished Alumni Service Award (1996)

B.A., 1952; M.B.A., 1954

Kelley School of Business Academy of Alumni Fellows (1973)

Indiana University Bloomington
B.A., 1952; M.B.A., 1954

BIOGRAPHY
Alan B. Gilman brings distinction to Indiana University through a combination of superb private sector leadership and enduring commitment to his alma mater. As an IU student, he earned a BA and MBA and was honored by both Phi Beta Kappa and Beta Gamma Sigma.
He built a long, successful career in the world of retailing, ultimately serving as chairman and CEO of Federated Department Stores, Inc., flagship stores in Dallas and New York City, and assuming many responsibilities of civic leadership in these cities. After pursuing private interests for several years, he was challenged to return to the business world as president and CEO of Consolidated Products, Inc., an Indiana corporation whose specialty restaurants have prospered under his leadership.
Through the years he has been a resource of powerful ideas, a piercing intellect, and excellent marketing skills for a wide range of IU activities. Particularly adept at implementing visionary strategies such as "World Class" status for IU, he provided the leadership which developed the IU School of Business Dean's Advisory Council, a major link between IU and the global business community, and the Dean's Council of the College of Arts and Sciences. His wise counsel has proved invaluable to the IU Foundation, on whose board of directors he has served since 1976.