Honoree
Alecia A. DeCoudreaux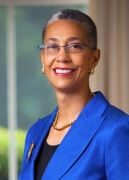 AWARDS
Honorary Degree (2013)

L.H.D.
Doctor of Humane Letters
Commencement
Location: Bloomington
Presenter: Michael A. McRobbie

Maurer School of Law Academy of Law Alumni Fellows (2005)

Indiana University Bloomington

Distinguished Alumni Service Award (2003)

J.D., 1978

IUPUI Spirit of Philanthropy Award (1992)
BIOGRAPHY
Alecia A. DeCoudreaux, a 1978 graduate of the IU School of Law-Bloomington, is the president of Mills College in Oakland, CA. Previously, she was the secretary and general counsel for Eli Lilly and Co. until her appointment at Mills College in 2011. At Eli Lilly and Co., where she was highly regarded, she became director of community relations in 1990 and advanced through various administrative positions until being named vice president and general counsel for Lilly USA in 2005. She was considered a "tireless consensus builder" and a transformative and invaluable part of the Lilly leadership team.
In the Indianapolis community, DeCoudreaux has been a director of United Way and of Indianapolis Downtown Inc. She has been a member of the advisory board of the Women's Fund of Central Indiana and the Center for Urban Policy and the Environment. In 1996, she was named one of the most influential women in Indianapolis, and in 1997 Girls Inc. of Indianapolis presented her with its Touchstone Award for inspiring young women with her commitment, determination and achievement. She has also received the Indiana State Bar Association's Women in the Law award.
DeCoudreaux is known for taking great pride in building strong bonds and relationships in the communities where she has lived and worked. She has held numerous honorary and leadership roles at IU Bloomington, including honorary director of the IU Foundation from 1998 to 2007. In 1998, she was inducted into the Academy of Law Alumni Fellows, the highest honor Maurer bestows upon alumni. DeCoudreaux also has served as chairwoman of the IU School of Law-Bloomington board of visitors and as a member of the school's search committee for a dean. She is also a member of the IU Foundation board of directors.
The 13th president of Mills College, she is the institution's first African-American female president. DeCoudreaux earned her undergraduate degree from Wellesley College in 1976 and her law degree from the IU Maurer School of Law in 1978.