Honoree
Charles E. Harrell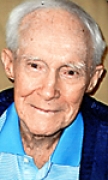 AWARDS
Z.G. Clevenger Award (1995)

B.A., 1933; LL.B., 1936; J.D., 1967

Distinguished Alumni Service Award (1988)

B.A., 1933; LL.B., 1936; J.D., 1967

E. Ross Bartley Award (1980)

Location: Bloomington
Presenter: John W. Ryan

BIOGRAPHY
Charles E. Harrell received the A.B. degree in 1933 from Indiana University and the LL.B. degree in 1936. A month before graduation, he began work in the University's Registrars Office and he rose to the position of Registrar and Director of Admissions and became a national leader in his profession. At the presentation of his award, President John W. Ryan described Mr. Harrell's "stamina," and that even after 31 years of service in these administrative roles, "beyond the reach of most individuals and certainly beyond the desire of most individuals," he was elected and served as Secretary of the Board of Trustees from 1967-1981.
He served on many boards and commissions and was elected national president of the American Association of Collegiate Registrars. He served for 28 years as chapter advisor to Sigma Chi and served for many years as Platform Marshall at all official university ceremonies. He was honored by receiving the E. Ross Bartley Award for the distinguished academic administration, and The Zora G. Clevenger Award for significant contributions to the Athletic Department. He received the University's highest distinction The Distinguished Alumni Service Award in 1988.
His contributions to his community were marked by service on the Board of Directors of the United Way and Chairman of its successful fund drive in 1967. He was an ardent and successful golfer having won the Bloomington Country Club Championship several times, The Herald Times Bloomington City Championship in 1947, and the Indiana State Seniors Championship in 1975. He also contributed in golf leadership serving on the boards of five senior gold associations and as the president of two. He was a member of the Bloomington Gold Hall of Fame.
Charlie was a thirty-second degree Mason, a member of the Bloomington Country Club, the YMCA, the First United Methodist Church, the Bloomington Rotary Club, the Varsity Club, and Sigma Chi. He was a wonderful Hoosier gentleman who was dearly loved by so many friends and his family. He lived a full, caring, sharing, giving life and touched the lives of many IU students.