Honoree
Charlie Nelms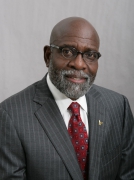 AWARDS
Honorary Degree (2019)

L.H.D
Doctorof Humane Letters
IU East Spring Commencement Ceremony
Location: Richmond, Indiana

Bicentennial Medal (2019)
President's Medal for Excellence (2007)

Retirement
Location: Bloomington, Indiana
Presenter: Adam Herbert

School of Education Distinguished Alumni Award (1998)

School of Education
M.S., 1971; Ed.D., 1977

Distinguished Alumni Service Award (1996)

School of Education
M.S., 1971; Ed.D., 1977

Thomas Hart Benton Mural Medallion (1994)

Year End Review Meeting
Location: Bloomington, Indiana
Presenter: Thomas Ehrlich

Thomas Hart Benton Mural Medallion (1988)

Meeting of Academic Planning Committee, Co-Convenors
Location: Indianapolis, Indiana
Presenter: Thomas Ehrlich

BIOGRAPHY
Charlie Nelms earned his undergraduate degree at University of Arkansas and both an M.S. and PhD in Education from IU in 1971 and 1977 respectively. Nelms is chancellor emeritus of Indiana University East and an IU professor emeritus of education. Nelms became the first African American chancellor of an IU campus as well as IU's first African American VP, with the title VP for institutional development and student affairs. He also served as the associate dean for academic affairs and chief student affairs officer at IU Northwest.
In addition to his leadership positions in the IU system, Nelms served as chancellor of both University of Michigan, Flint and North Carolina Central University (NCCU). While at NCCU, the university was ranked among the best public historically black colleges and universities in the nation for three years running. In 2012 President Barack Obama presented Nelms with the MLK Drum Major for Service Award, which recognizes heroes around the country who have answered the call to service. Nelms has mentored many up-and-coming professionals who reflect a diversity of backgrounds, with more than 25 of his mentees having become college presidents, and countless others occupying leadership positions in education, health care, and public service. Nelms and his wife, Jeanetta, Endowed Scholarship at four universities. They also support endowments that enhance professional development for minority graduate students, mentorship, and faculty development.
Nelms has worked as a higher education consultant for more than 100 institutions. Among the board on which he has served include: the Charles Stewart Mott Foundation; the John Gardner Institute for Excellence in Undergraduate Education; the Higher Learning Commission, and the American Association of State Colleges and Universities (AASCU). He is a founder of the AASCU Millennium Leadership Initiative, the nation's top leadership program for those who have traditionally been underrepresented in higher education. Nelms is the author of many books, and his memoir, From Cotton Fields to University Leadership: All Eyes on Charlie, is being published this year by Indiana University Press as an IU Bicentennial initiative. A portion of the proceeds will be donated to scholarships at historically black colleges and universities
He was awarded an Honorary Doctor of Humane Letters by IU at its 20-19 IU East spring commencement for his outstanding achievement in the arts and humanities, and for his commitment to community engagement and public service.