Honoree
D. Patricia Ryan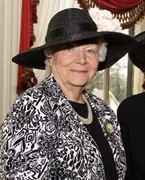 AWARDS
Bicentennial Medal (2019)
Presidents Circle Laurel Pin (2013)

Benefactor

Distinguished Alumni Service Award (1993)

Indiana University Purdue University Indianapolis (IUPUI)
School of Dentistry
B.A., 1979

Gertrude Rich Award (1987)

Indiana University Bloomington
B.A., 1979

School of Dentistry Honorary Member Award (1980)

Indiana University Purdue University Indianapolis (IUPUI)
School of Dentistry
B.A., 1979

BIOGRAPHY
D. Patricia Ryan was the second alumna to serve as first lady of Indiana University. She brought much warmth and kindness into IU's relations with countless students, alumni, and friends, rejuvenating the president's house as the heart of the Bloomington campus, and opened its doors to the state's educational, civic, and political leaders and their spouses. In turn, this created a more collegial atmosphere among the administrators of higher education in Indiana, which has proved to be invaluable for presented a united public position.
Pat developed the presence of the president and his wife in Indianapolis, and established the Lilly House as a center for official entertaining and a venue for citizen groups to support music, art, education, and metropolitan planning. She is a shining example for women who continue their education while balancing the needs of their families; in fact completing her B.A. degree during her time as first lady. Pat was a founding member of the Woodburn Guild, leading the successful effort to rehabilitate the University's historic house, and oversaw the preparation of brochures illustrating the history and significance of the Woodburn, Lilly, and Bryan Houses.
As one of the first supporters of an alternative school in Bloomington, Pat was also involved in counseling and fundraising for community groups that provide support for pregnant women.
Ms. Ryan received the IU Bicentennial Medal in September 2019 in recognition of her distinguished service to Indiana University.