Honoree
Daniel M. Laskin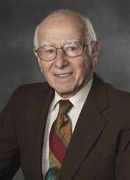 AWARDS
Honorary Degree (2001)

D.S.
Doctor of Science
Commencement
Location: Indianapolis
Presenter: Myles Neil Brand

School of Dentistry Distinguished Alumni Award (1984)

Indiana University Purdue University Indianapolis (IUPUI)
School of Dentistry
B.S., 1947; D.D.S., 1947; Sc.D., 2001

Distinguished Alumni Service Award (1975)

Indiana University Purdue University Indianapolis (IUPUI)
School of Dentistry
B.S., 1947; D.D.S., 1947; Sc.D., 2001

BIOGRAPHY
Daniel Laskin- a renowned educator, practitioner, and leader in the field of oral and maxillofacial surgery-has made a positive impact that extends beyond his profession to make a difference in the fabric of our society. A typical example of this impact is related by Leon Assael, dean of the University of Kentucky College of Dentistry.
Some years ago, in an editorial for the Journal of Oral and Maxillofacial Surgery, Laskin commented on the rising numbers of dentists treating serious injuries caused by firearms and suggested firmer gun controls. The editorial generated "a barrage of vituperative and threatening criticism," Assael says. But Laskin had a response of his own-humor and an expressed understanding for the position of his critics. His calm reaction and friendly defense of his opinion disarmed a combative debate and allowed for productive continued dialogue among concerned physicians about this critical issue.
According to Assael, this combination of "wit, wisdom, and courage" is a Daniel Laskin trademark- one that has characterized the last 50 years of what many of his contemporaries consider an incomparable career. "There is not a single individual in the United States who can match or even come close to paralleling his career," says Raymond J. Fonseca, dean and professor of oral and maxillofacial surgery at the University of Pennsylvania. "He has single-handedly shaped the specialty of contemporary oral and maxillofacial surgery."
Laskin began his career far from his New York City origins. After receiving his B.S. and D.D.S. degrees from Indiana University in 1947, and his M.S. from the University of Illinois in 1951, Laskin became a full-time faculty member at the University of Illinois. Laskin moved steadily through the academic ranks of the University of Illinois College of Dentistry. Twelve years after becoming a full professor with the Department of Oral and Maxillofacial Surgery, Laskin became the department's associate head. In 1983, after serving as head of that department for a decade, he was appointed professor and chairman of Virginia Commonwealth University's Department of Oral and Maxillofacial Surgery, a position he still holds. Despite demanding academic responsibilities, Laskin has maintained connections with an impressive array of regional, national, and international organizations.
"There is no question in my mind that he is seen as the leader in the field and has been recognized as such for decades," says Charles Bertolami, dean of the University of California San Francisco School of Dentistry. "Laskin is one of only a handful of oral and maxillofacial surgeons who are admired for their clinical ability, their scientific accomplishments, and their leadership in the field as a whole."
Laskin's leadership roles have been many and diverse. He has served as a consultant or attending surgeon for nearly a dozen hospitals over the last 40 years, sat on the boards of such organizations as the American Board of Oral Surgery and American Dental Society of Anesthesiology, and been affiliated with nearly 30 professional associations. As a consultant in oral surgery, Laskin has worked with the American Dental Association, the National Institute for Dental Research, and the Office of the Surgeon General. And more than one prestigious group has elected him president, including the Chicago and Illinois Societies of Oral and Maxillofacial Surgeons, the American and International Associations of Oral and Maxillofacial Surgeons, and the National Academies of Practice.
Laskin is a prolific author and editor as well. The editor-in-chief of the Journal of Oral and Maxillofacial Surgery since 1972, he has contributed to more than 800 articles in the fields of oral and maxillofacial surgery and dental research; held numerous editorial board positions for such publications as Virginia Dental Journal, Journal of Dental Research, and Topics in Pain Management; and written or co-written 13 books. If, as many say, his career has changed the world of oral and maxillofacial surgery and dental research, then the world has noticed.
A catalogue of the more than 70 awards and honorary memberships Laskin has amassed over his career reads like an international atlas, representing the medical communities of England, Scotland, the United States, Brazil, Hungary, Canada, and South Africa, among others. Honors of note include multiple William J. Gies Editorial Awards, fellowships in dental surgery from England's Royal College of Surgeons and the Royal College of Physicians and Surgeons of Glasgow, and Distinguished Service awards from the American Society of Oral Surgeons and Indiana University. But, according to David Bussard, former president of the American Association of Oral and Maxillofacial Surgeons, Laskin's greatest triumph has been in the classroom.
"Dr. Laskin has trained hundreds of residents not only in the surgical treatment of patients, but more importantly, in the ethical and caring treatment of patients," says Bussard. "He has, through his direct patient contact and through a lifetime of teaching and research, become a model for present and future generations of health care providers."
Lawrence Goldblatt, dean of the Indiana University School of Dentistry, agrees. "Dr. Laskin's career has exemplified the very highest standards of professional excellence and impact, personal integrity, and steadfast commitment to the public good," says Goldblatt. "He has been a leader of leaders and an educator of educators, and has been recognized by the most distinguished organizations with the most coveted honors in his field in the world. I cannot imagine anyone whose life and work better exemplify the model of professional and personal qualities so valued by lndiana University and our School of Dentistry."