Honoree
Desmond C. Wong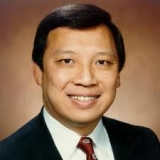 AWARDS
Bicentennial Medal (2019)
Distinguished Alumni Service Award (2008)

B.S., 1973

Kelley School of Business Academy of Alumni Fellows (2006)

Indiana University Bloomington
Kelley School of Business
B.A., 1973

IUAA President's Award (1994)
BIOGRAPHY
Having operated in China since 1981, Ernst & Young now has over 4,000 professional staff in nine Chinese cities furnishing audit, tax and related professional services to Western multinationals operating in China and Chinese enterprises seeking to access international capital markets. As Ernst & Young's China subject matter expert, Mr. Wong provides decision support to Americas and China domiciled clients, private equity firms and their portfolios companies in cross border investment decisions involving the world's fastest growing economy.
While he was Corporate Director of Finance at Sears, Roebuck and Co. (then Fortune #9), Wong directed Sear's global long-term financing, acquisitions and divestitures, interest rate risk management, credit rating defense and participated in the successful launch of the Discover Card. He implemented Sears anti-take over defense in the late 1980's. Later, as Managing Director and CFO of a merchant banking firm, he specialized in bringing western capital and technology into China.
Wong was appointed to a U.S. Presidential (Grace) Commission staff to make process reengineering and cost-saving recommendations at the United States Treasury for President Ronald W. Reagan. A former trustee of the American Red Cross National Disaster Endowment Fund, Wong now serves on the Boards of the Indiana University Foundation, Junior Achievement of Chicago and the Kelley School Dean's Advisory Council. He is a former President and Director of the Kelley School Alumni Association, the Harvard Club of Chicago and a member of the Economic Club of Chicago.
China born and educated through high school, Wong is fluent in Chinese. A CPA, he holds a bachelors degree in Accounting (with distinction) from Indiana University and a MBA from Harvard Business School.
Consistent with his belief in the Chinese proverb "Drink water, ponder source", Wong and his late wife Karen have established IU Athletic and Kelley School scholarship endowments to help replenish the resources that helped launch his career. He resides in Northbrook, Illinois with his children Katy and Justin.