Honoree
Frederick G. Steingraber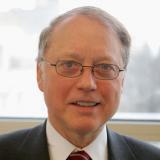 AWARDS
Presidents Circle Laurel Pin (2014)

Benefactor

Distinguished Alumni Service Award (2000)

B.S., 1960

Kelley School of Business Academy of Alumni Fellows (1986)

Indiana University Bloomington
Kelley School of Business
B.S., 1960

BIOGRAPHY
Frederick G. Steingraber earned his B.S. in Economics and Business from IU in 1960. While a student, he was a member of the IU Student Foundation Board and the Sigma Alpha Epsilon Fraternity. He then went on to earn his M.B.A. at the University of Chicago in 1964 where he was prepared to begin a career full of successes.
Steingraber began a highly successful career at A.T. Kearney, a global strategic and operational management consulting firm. Starting as a management consultant, Fred held many titles during his lifelong career at the firm, including CEO and Chairman from 1983–2000. During his time as CEO, the company doubled revenues every three years, compounding at 25% per year, tripled the number of office locations globally, and rose from the twenty-fifth largest high value management consulting firm in 1986 to the second largest in 1997 with the highest revenues per consultant in the industry.
Passionate about giving back, his business acumen and leadership were highlight valued by the 19 corporate boards, 18 nonprofits boards, and 5 advisory boards of which he served. At IU, he was involved with the IU Foundation Board of Directors and the Kelley School of Business Dean's Advisory Council, where he served as chairman. Steingraber also financially supported the university, particularly the Kelley School of Business through the Frederick G. Steingraber Fund that benefits the Global Leaders Network, Kelley Direct, the Steingraber Consulting Fund that supports graduate and undergraduate students, and the Well House Society.
Steingraber was inducted into the Kelley School of Business Academy of Alumni Fellows in 1986 and the Presidents Circle in 2002. He was honored with the IUAA Distinguished Alumni Service Award in 2000 and the Presidents Circle Laurel Pin in 2014.