Honoree
Garnett Inman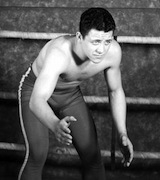 AWARDS
IU Southeast Chancellor's Medallion (1994)

IU Southeast Chancellor's Medallion
Location: New Albany
Presenter: Leon Rand

Z.G. Clevenger Award (1976)

B.S., 1940

Distinguished Alumni Service Award (1970)

B.S., 1940

BIOGRAPHY
Garnett Inman served for many years as the Mayor of New Albany, Indiana. In this capacity, Mayor Inman was responsible for a remarkable growth in his city. He was instrumental in the formation of an Industrial Foundation, which resulted in the location of new industries in the community. With his dedicated leadership, a group of concerned citizens reorganized and upgraded city government. In 1969, his city was nationally recognized in receiving the coveted All America City Award.
He gave unsparingly of his talents to his University. In 1966, he sparked a campaign to raise one half million dollars which enabled Indiana University to purchase one hundred and eighty acres for the relocation of the new Indiana University Southeast campus soon to be built in New Albany.
Garnett Inman earned All-American honors in 1940 as a wrestler for the IU wresting team. He placed second (175) in the NCAA meet. Inman was a two-year letter winner at IU. He helped the Hoosiers to a perfect 7-0 record in 1938. In 1938, the Hoosiers placed second at the Big Ten and third at NCAAs.