Honoree
William G. Mays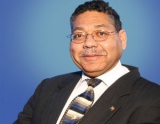 AWARDS
President's Medal for Excellence (2015)

IUPUI Spirit of Philanthropy Luncheon
Presenter: Michael A. McRobbie

IUPUI Spirit of Philanthropy Award (2009)
Honorary Degree (2000)

D.S.
Doctor of Science
Commencement
Location: Bloomington
Presenter: Myles Neil Brand

Partners in Philanthropy (2000)

Herman B Wells Visionary Award

Kelley School of Business Distinguished Entrepreneur (1993)

Indiana University Bloomington
Kelley School of Business
B.S., 1970; M.B.A., 1973; ScD, 2000

Distinguished Alumni Service Award (1989)

B.A., 1970; M.B.A., 1973

College of Arts and Sciences Distinguished Alumni Award (1985)

Indiana University Bloomington
B.A., 1970; M.B.A., 1973

BIOGRAPHY
A native Hoosier and a successful business entrepreneur, William Mays unstintingly lent his talents and support to his community and to Indiana University. A generous donor to civic causes and to the IU Foundation, Mays was a role model and mentor for young people in the sciences and business.
"Because of his long involvement with and commitment to IU, his encouragement of those around him and serving with him, and his dedication to our society and the state of Indiana, William Mays serves as a role model for present and future generations," says Gary M. Hieftje, distinguished professor and chair of the IU Department of Chemistry.
The son of a high school teacher and a college chemistry professor, Mays grew up in Evansville, and majored in chemistry at IU Bloomington. After receiving his B.A. degree in 1970, he worked briefly as a test chemist. Deciding to combine his chemical knowledge with a career in business, he entered the IU School of Business and earned an M.B.A. in Marketing and Finance in 1973. From 1973 to 1977, Mays was assistant to the president of Cummins Engine, and played a key role in forecasting future worldwide engine demand for the Columbus, Indiana-based company. In 1977, Mays became president of Specialty Chemicals Corporation and led that company until 1980, when he founded his own chemical supply company, Mays Chemical. Mays was also the owner and publisher of the Indianapolis Recorder, the nation's fourth oldest surviving African American newspaper.
Mays' ability and determination quickly catapulted his chemical company to success. In 1992, the company made its debut at number 13 on the top 100 list of African American-owned businesses, compiled by the magazine Black Enterprise. The company has annual sales of over $100 million and is one of the top 20 chemical distribution companies in North America. Through ventures and supply contracts with Fortune 500 companies such as Kraft Foods and SmithKline Beecham, Mays Chemical continues to grow.
Mays was also active in the wider business community, serving as a director on the boards of Anthem Insurance, Inc.; Indiana Energy/Indiana Gas, Inc.; Bank One, Indiana; the Indiana State Chamber of Commerce; and the Indianapolis Chamber of Commerce. Mays served as chair of the Campaign for the United Way of Central Indiana, chair of the annual campaign for the Indianapolis Museum of Art, and co-chair of the Coca-Cola Circle City Classic. He also was the co-chair of the city's NCAA relocation team, which successfully attracted the NCAA headquarters to Indianapolis. Beyond Indiana, Mays served on the National Commission on Entrepreneurship, the National Minority Supplier Development Council, and on the board of the National Urban League. "For three decades, Bill Mays has provided personal encouragement, financial support, mentoring, and contacts .. . especially to members of the Kappa Alpha Psi fraternity," says John W. Ryan, IU President Emeritus. Donor of IU's Theodore C. Mays Graduate Fellowship in Chemistry, Mays also has provided support to the Harry Day Lectureship and the Liberal Arts and Management program. Mays also served on the board of the Indiana University Foundation, on the President's Council, and on the Dean's Advisory Board for the Kelley School of Business. He also spent time serving on the School of Nursing's Board of Advisors and the Awards Nominations Committee. "William Mays has been and remains a literal treasure for the state of Indiana and the nation; he has given so much, in so many ways," says Dan R. Dalton, dean of the Kelley School of Business.
An authentic Hoosier success story, and one of Indiana's most successful businessmen, Mays received the Madame C. J. Walker Lifetime Achievement Award in 1998. He also has been honored with the Salvation Army "Others" Award (1994), the Dr. Robert W. Briggs Humanitarian Award (1995), the Indianapolis Black Chamber of Commerce Director's Special Recognition Award (1996), the United Negro College Fund, Inc., Distinguished Leadership Award (1997), and was inducted into the Junior Achievement Central Indiana Business Hall of Fame (1998).
In a letter supporting Mays' nomination for an honorary doctorate, the late University Chancellor Herman B Wells wrote of Mays, "He is an outstanding role model for young entrepreneurs and a fine example of all that our graduates can achieve."