Honoree
Isiah L. Thomas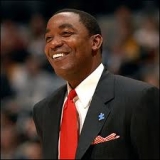 AWARDS
Distinguished Alumni Service Award (2001)

B.A., 1987

IUB Athletics Hall of Fame (1993)
Olympians (1980)

Men's Basketball
United States of America
Location: Moscow

BIOGRAPHY
Isiah L. Thomas is a well known figure in sports and an inspirational leader in his community as well as a businessman of rare insight, vision, and effectiveness. He led Indiana University to an NCAA national championship as a sophomore in 1981, and the Detroit Pistons to consecutive NBA titles in 1989 and 1990, proving himself as one of the greatest playmakers in the history of basketball. He was named to the starting lineup of the NBA All-Star team for 12 consecutive years, has been acclaimed as one of the 50 Greatest Players in NBA history, and was elected to the Basketball Hall of Fame in 2000.
Thomas, who received a BA in criminal justice from Indiana University in 1987, became a minority owner and executive vice president of the Toronto Raptors in 1994. He served as an NBA Television commentator, and became head coach of the Indiana Pacers in 2000. Growing up the youngest of nine children in Chicago's inner city, he has become a role model. He is the founder and chair of the Isiah Thomas Foundation, which provides educational and recreational opportunities for Detroit inner-city youths.
Additionally, Thomas serves as the 2000-2001 national chair of the IU annual Fund Drive, one of the IU Foundation's major fund-raising campaigns; and he has established the Isiah Thomas Scholarship for criminal justice majors.