Honoree
James T. Morris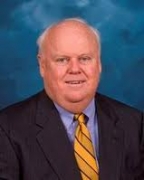 AWARDS
Bicentennial Medal (2019)
Partners in Philanthropy (2011)

Herman B Wells Visionary Award

College of Arts and Sciences Distinguished Alumni Award (2005)

Indiana University Bloomington
B.A., 1965

IUPUI Spirit of Philanthropy Award (2003)
Kelley School of Business Academy of Alumni Fellows (2001)

Indiana University Bloomington
Kelley School of Business
B.A., 1965

IUPUI Spirit of Philanthropy Award (1995)
Distinguished Alumni Service Award (1991)

B.A., 1965

BIOGRAPHY
James T. Morris is a IU alumnus, trustee of Indiana University and president of Pacers Sports & Entertainment. A native of Terre Haute, Indiana, Morris studied political science at IU Bloomington and was active in student government. When Indiana senator Richard Lugar was mayor of Indianapolis, Morris served as chief of staff, developing education and employment programs for the city's youth. In the evenings, he completed an MBA at Butler University.
From 1973 to 1989, Morris worked for the Lilly Endowment. He served as president for six years, helping to revitalize downtown Indianapolis, strengthen Indiana University-Purdue University at Indianapolis, and involve private companies in public initiatives. In 1989, he became chairman and CEO of IWC Resources Corp. and Indianapolis Water Company. In 2002, Morris was named the executive director of the United Nations' World Food Programme. In that position, he oversaw food aid distribution to more than 110 million people each year in about 80 countries. In 2003, he led the biggest food operation in history, providing food to nearly 27 million Iraqis after the United States-led invasion of Iraq. Morris became president of Pacer Sports & Entertainment in 2008. Throughout his career, he has lent his expertise to the American Red Cross, Butler University, the U.S. Olympic Committee, and other not-for-profit organizations.
After years of supporting IU as a professional, alumnus, and parent, Morris was elected to serve on the board of trustees from 1996 to 2002, serving as chairman of the board in 2001. In 2013, Morris returned to the board when he was appointed by Governor Mike Pence, and reappointed in 2016, when he again became chairman (2016-2017). He has received many awards and recognitions from Indiana University and beyond including: the IU College of Arts and Sciences Distinguished Alumni Award (2005); the Kelley School of Business Academy of Alumni Fellows (inducted in 2001); the IUAA Distinguished Alumni Service Award (1991); and the IUPUI Spirit of Philanthropy Award (1995; 2003). He has been awarded the Sagamore of the Wabash from several Indiana governors, the Indiana Black Expo's Spirit of Freedom Award (2015), and the Presidential Lifetime Achievement Award (2016). He has received numerous honorary degrees and currently serves as the United States permanent representative to the Executive Board of UNICEF.
Morris received the IU Bicentennial Medal in September 2019 in recognition of his distinguished service as a member and former chair of the IU Board of Trustees.