Honoree
John F. Kimberling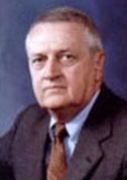 AWARDS
IU Foundation President's Medallion (2006)
Distinguished Alumni Service Award (2001)

B.A., 1947; J.D., 1950

Maurer School of Law Academy of Law Alumni Fellows (1990)

B.A. 1947, J.D. 1950

BIOGRAPHY
Highly respected as a professional, Jack Kimberling has always felt the need to help his community and his alma mater. After graduation from Indiana University with a BA in 1947 majoring in government and a JD in 1950, the Shelbyville native was called to active duty in the U.S. Navy during the Korean War.
In 1953 he joined the Los Angeles law firm of Lillick McHose and Charles, where he demonstrated outstanding ability as a trial lawyer and guided the firm's development. In 1986 he joined Dewey Ballantine Bushby Palmer and Wood, and still remains of Counsel to the firm. A classmate describes Kimberling as an outstanding lawyer concerned not only with what the law is but also with what it does. In Los Angeles he helped strengthen the business, volunteer, and arts communities. Kimberling has also served with uncommon effectiveness as a member of the board of directors of the Indiana University Foundation since 1988 and was co-chairman for the very successful Bloomington campus endowment campaign.
He has been no less committed to the IU School of Law-Bloomington, serving as a member of the board of visitors and endowing the John F. Kimberling Chair. In 1990 he was inducted into the Academy of Law Alumni Fellows. The integrity, character, and loyalty with which Jack Kimberling has served his profession and community are surely the highest compliments that can be paid a university by an alumnus.