Honoree
Kenneth A. Beckley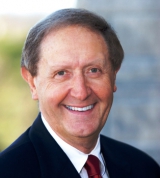 AWARDS
Bicentennial Medal (2019)
The Media School Distinguished Alumni Award (2016)

Indiana University Bloomington

Distinguished Alumni Service Award (2008)

B.S., 1962

President's Medal for Excellence (2007)

Retirement
Location: Bloomington, Indiana
Presenter: Adam Herbert

IUAA President's Award (1998)
IUPUI Maynard K. Hine Medal (1997)

B.S., 1962

BIOGRAPHY
Kenneth Beckley received his bachelor's degree in radio and television from IU in 1962. He had a 14-year career as a broadcast journalist in Terre Haute, Asheville, North Carolina, and Indianapolis. He served as IUPUI's first director of university relations from 1977 to 1983, before joining H.H. Gregg. He was hired as the company vice president for advertising and public relations and later became executive vice president. During his tenure there, he served as company spokesperson and was responsible for marketing, sales, human resources, public relations, media relations, customer relations and community relations. He became well-known as the spokesman for H.H. Gregg in its advertising. He retired from the company in December 2000.
Beckley also has played an active role at Indiana University for forty years. In 1998, he received the President's Award, the highest honor bestowed by the IU Alumni Association. He is a former national chair of the Alumni Association, served on the IUB Athletics Committee, chaired the Armstrong Student Foundation Endowment Campaign, served on the Board of Advisors of the Student Foundation, and was a member of the Advanced Research & Technology Institute (ARTI). Coming out of retirement in February 2002, Beckley was president and CEO of the IU Alumni Association for five years. In 2004, he chaired the search for a new athletic director for IU.
Beckley has received a number of honors for his public and professional service, including the CASPER award for meritorious service from the Greater Indianapolis United Way/Community Service Council in 2000. Also in 2000, he was named Advertising Person of the Year by the Indiana Federation of Advertising Agencies. He was named Sagamore of the Wabash by Governor Mitch Daniels in 2007.
A native of Lynnville, Indiana, he has been married to Audrey (Hofelich) for 43 years. She is also an IU graduate. Ken and Audrey have two children and six grandchildren.