Honoree
Michael S. Maurer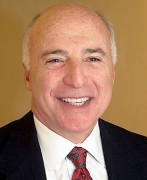 AWARDS
Bicentennial Medal (2019)
Honorary Degree (2016)

L. H.D.
Doctor of Humane Letters
IU Bloomington Honors Convocation
Location: Bloomington
Presenter: Michael A. McRobbie

Presidents Circle Laurel Pin (2016)

Founder

IU Foundation President's Medallion (2007)
Distinguished Alumni Service Award (2001)

J.D., 1967

Maurer School of Law Academy of Law Alumni Fellows (1996)
IUPUI Spirit of Philanthropy Award (1996)
BIOGRAPHY
After graduating from Indiana University School of Law-Bloomington in 1967 and enjoying a successful career as a business attorney with Maurer Rifkin & Hill in Indianapolis, Michael "Mickey" Maurer expanded his entrepreneurship into the communications and entertainment industries, including cable television, film production, radio broadcasting, and prints media. In the early 1970s, he was a pioneer in the initial development and operation of cable television systems. He was one of the founding shareholders of Emmis Broadcasting Corporation, and owner / operator of major market radio properties. Maurer now serves as chairman of the board of several corporations in the areas of broadcasting, publishing, and banking.
Always interested in stimulating new, creative, and entrepreneurial approaches to community problem solving, Mickey and his wife endowed a challenge grant through the United Way to encourage small businesses to help solve community needs. The couple also endowed a full annual scholarship for a student attending the IU School of Law-Bloomington. Maurer has been named to the Academy of Law Alumni Fellows by the IU School of Law-Bloomington. The University of Indianapolis awarded him the honorary degree of Doctor of Laws in 1995, and IU honored him with the Distinguished Alumni Service Award in 2001. In 2008, Maurer donated $35 million to the IU School of Law, which then renamed itself to the Indiana University Michael Maurer School of Law a year later in his honor.
In 2016, Indiana University awarded Maurer with an Honorary Doctor of Humane Letters at its spring Honors Convocation in Bloomington for his outstanding achievement in the arts and humanities, and for his continued community engagement and public service.