Honoree
Mildred M. Ball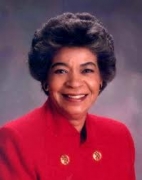 AWARDS
Bicentennial Medal (2019)
IUAA President's Award (2010)

Indiana University Bloomington

Distinguished Alumni Service Award (2005)

B.S. 1960

School of Public Health Anita Aldrich Distinguished Alumni Award (2005)

Indiana University Bloomington
School of Health, Physical Education & Recreation
B.S. 1960

School of Public Health John R. Endwright Alumni Service Award (1997)

Indiana University Bloomington
School of Health, Physical Education & Recreation
B.S. 1960

BIOGRAPHY
Mildred M. Ball nearly was not admitted to Indiana University. After briefly attending the Hampton Institute (now Hampton University) in Virginia, she moved back home to Gary, working to save money for a transfer to IU - but when her family fell on hard times, she used her earnings to support them, leaving her with just $100 for college.
Unwilling to delay her education, Ball headed to IU anyway, a day after classes had started, and with no transcript (Hampton would not release them until she paid a final bill, something she could not do at the time). The man at the registrar's office said Ball could not be admitted without her transcript. The two argued back and forth until the young man saw John Endwright, then the assistant dean of the School of Health, Physical Education, and Recreation (HPER), and asked him to come over and tell the girl she was wasting her time.
"Before the dean could open his mouth, I looked at him and said, 'Sir, I have a brother at University of Washington, I have a brother at Iowa State Teachers College, I have a sister at Los Angeles State College, I have a brother here at Indiana University. I want to go to school, too.' He looked at me and said 'Let her in,' and walked off."
Ball soon became a straight-A student, eventually being hired as a HPER dance instructor. She put herself through school, living in a co-operative dorm and working several part-time jobs. When the art school was looking for models, Ball sat before students in her bathing suit for $1.50 an hour (she was not brave enough to "bare all" for $3.00 an hour). She and other models spent many hours posing for then IU Professor Robert Laurent as he worked on an elaborate structure made of chicken wire. Ball forgot about the project until more than eight years later, when she saw the final result: the Showalter Fountain in front of the IU Auditorium. "I said, 'My god, that's it!' It was like hell trying to balance for that sculpture, but it was fun."
Ball, who received a bachelor of science degree from IU in physical education in 1960, has been a trail blazer in women's athletics at the local, state and national levels. Throughout her career, she has worked to ensure excellence and equity for girls in athletics, academic and health-related activities.
From 1960 to 1977, she was a teacher at Washington High School in East Chicago, Ind. From 1967 to 1977, she also served as supervisor and coordinator of the Student Park Workers Neighborhood Youth Corps in East Chicago. From 1977 to 1997, she was assistant commissioner of the Indiana High School Athletic Association.
Ball's persistent work has been recognized by awards given to her by various organizations, including the National Federation of State High School Associations, the Indiana Association of Athletic Officials, the National Coalition of 100 Black Women, and the Benjamin Hooks Award from the NAACP. The IU School of Health, Physical Education and Recreation gave her the John Endwright Distinguished Alumni Service Award in 1996.
Ball was one of the co-founders of the Neal-Marshall Alumni Club and has served in many capacities with both HPER and the IU Alumni Association, including the IUAA Executive Council. She also has a Master of Science degree in Secondary Education from Purdue University.