Honoree
Norman E. Pfau, Jr.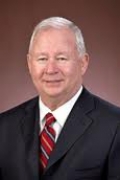 AWARDS
Bicentennial Medal (2019)
Presidents Circle Laurel Pin (2016)

Benefactor

IU Southeast Chancellor's Medallion (2001)

IU Southeast Chancellor's Medallion
Location: New Albany, Indiana
Presenter: F.C. Richardson

Distinguished Alumni Service Award (2000)

B.S., 1965

Kelley School of Business Distinguished Entrepreneur (1986)

Indiana University Bloomington
Kelley School of Business
B.A., 1965

BIOGRAPHY
Norman Edward Pfau, Jr. is a loyal, generous supporter of his alma mater and other projects to which he is dedicated. Since receiving his BA degree in business finance from Indiana University in 1965, he has built a distinguished career as president and CEO of Geo. Pfau's Sons Company, Inc., a firm that is known for high ethical standards in dealing with its customers, vendors, and employees. For 20 years, Pfau served on the Indiana Port Commission, applying his knowledge of river and lake transportation to developing Indiana's newest port, the Clark Maritime Center.
Prompted by his complementary interests in education and in young people, Ned Pfau helped to develop IU Southeast and the Indiana Vocational Technical College. He established a scholarship endowment for IU athletes, became a founding member of the well House Society, and contributed generously to the Bloomington Campus Endowment Campaign. Pfau participates effectively as a member of the board of IU Foundation and is treasurer and past president of the IU Varsity Club National Board of Directors.
Honored as a Kelley School of Business Distinguished Entrepreneur, Ned Pfau's contributions have also won accolades from the Southern Indiana Chamber of Commerce, from associates who cite him as an inspiring role model, and from three Indiana governors who have named him a Sagamore of the Wabash. IU honored Norman Pfau in 2000 with a Distinguished Alumni Service Award.