Honoree
Patricia R. Miller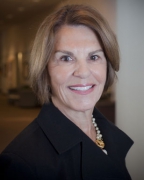 AWARDS
Honorary Degree (2018)

L.H.D.
Doctor of Humane Letters
IUPUI Commencement Ceremony
Location: Indianapolis
Presenter: Michael A. McRobbie

Partners in Philanthropy (2016)

Herman B Wells Visionary Award

IU Foundation President's Medallion (2010)
Distinguished Alumni Service Award (2003)

B.S., 1960

BIOGRAPHY
Patricia Miller, co-founder of Vera Bradley and considered one of Indiana's most successful entrepreneurs, is a 1960 graduate of the School of Education at Indiana University.
In 1982 while waiting in the Atlanta airport and struck by the lack of attractive travel bags for women, she and her friend Barbara Bradley Baekgaard came up with an idea to launch a company - Vera Bradley. What began with an investment of $250 each, Vera Bradley has become an internationally recognized brand with sales of $500 million.
When the co-founders' first sales representative, who was also Baekgaard's former college roommate, succumbed to breast cancer, they channeled their grief and created a philanthropic mission for the company to find a cure for breast cancer. They, along with some of their close friends launched the Vera Bradley Classic, a classy golf and tennis tournament for women that quickly grew to be a must-attend event in Fort Wayne. Initially, the proceeds were directed to the American Cancer Society. However, by 1998 they established the Vera Bradley Foundation for Breast Cancer and channeled the Classic proceeds to Indiana University.
As of 2018, the Vera Bradley Foundation has committed $35 million to breast cancer research at the Indiana University Melvin and Bren Simon Cancer Center with $25.7 million fulfilled. This investment has catapulted breast cancer research at IU into the upper echelon of research programs nationwide and is making a difference in the search for new treatment and cures.
Miller has served as director, and now honorary director of the IU Foundation, and was co-chair of the IUPUI Impact Campaign and chair of the School of Medicine's campaign, making key introductions that led to major gifts to the school. She is a member of the Jacobs School of Music dean's National Advisory Board, the Varsity Club, and is founding member of the Women's Philanthropy Council.
Giving back is a reoccurring theme in Miller's life. When former Governor Mitch Daniels was elected to office, Miller took a leave of absence from Vera Bradley in 2005 to serve as the state's first-ever Secretary of Commerce and CEO of the newly created Indiana Economic Development Corporation. Miller retired from Vera Bradley in 2012. She and her husband Mike, also an IU alumnus, live in Ft. Wayne, Indiana, and have three grown children.
In 2018, Indiana University awarded Patricia R. Miller with an Honorary Doctor of Humane Letters at its spring commencement ceremony in Indianapolis, Indiana for her outstanding achievement in the arts and humanities, and for her continued community engagement and public service.