Honoree
Peggy Gordon Elliott Miller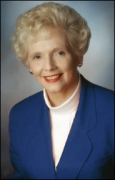 AWARDS
Bicentennial Medal (2019)
Distinguished Alumni Service Award (2004)

Ed.D., 1975

Thomas Hart Benton Mural Medallion (1988)

Meeting of Academic Planning Committee, Co-Convenors
Location: Indianapolis
Presenter: Thomas Ehrlich

BIOGRAPHY
Peggy Gordon Elliott Miller is an IU alumna, former faculty member and chancellor of IU Northwest. Miller earned a B.A. from Transylvania University (1959), M.S. from Northwestern University (1964), and Ed.D. from Indiana University (1975). Miller was the first woman to lead any campus of Indiana University when she was named interim chancellor in 1983 and then served as chancellor from 1984 to 1992.
Miller was an active college student, serving as a member and officer of Chi Omega sorority, as a member and officer of student government, as well as preside of the International Relations Club and of the Student Christian Association. In 1965, Miller joined the faculty of IU Northwest teaching in the fields of English and education. She became the executive assistant to the chancellor in 1981, was named interim chancellor in 1983, and the fifth chancellor of IU Northwest in 1984.
At IU Northwest Miller worked to increase enrollment; secured funding for academic programs, student support, and facilities (from both public and private sources); increased sponsored research; refocused campus efforts toward diversity; initiated international engagement for the campus; established university economic development activity in the region; and completed long-term comprehensive academic and physical planning. Miller resigned from IU in 1992 accepting the presidency at the University of Akron. After several years at UA, she continued in executive positions with the American Association of State Colleges and Universities, South Dakota State University, and Texas Tech University.
Miller has served numerous professional and civic organizations including serving as the first national chairman of the Coalition of Urban and Metropolitan Universities, the Boys and Girls Club of Northwest Indiana, the United Way, the NAACP, and was a higher education representative to the United States Army War College National Civilian Seminar. She has received numerous awards and recognitions including: the Distinguished Alumni Service Award from the IU Alumni Association; the Distinguished Service Award from South Dakota State University; the NAACP Golden Heritage Award; and was named a Sagamore of the Wabash. She has also received honorary doctorates from Transylvania University, South Dakota State University, and Chungnam National University in Korea.
Miller received the IU Bicentennial Medal in September 2019 in recognition of her distinguished service as former chancellor of IU Northwest.