Honoree
Rebecca Taylor Bingham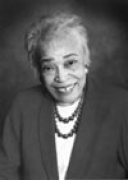 AWARDS
Distinguished Alumni Service Award (2002)

B.S., 1950; M.L.S., 1969

IUAA President's Award (1999)
School of Library and Information Science Distinguished Alumni Award (1977)

Indiana University Bloomington
B.S., 1950; M.L.S., 1969

BIOGRAPHY
Dedication, leadership, and professionalism are just a few of the terms that have been used to describe Rebecca Taylor Bingham, MLS'69. Others include vision, innovation, and pioneer. Bingham was born in Indianapolis at a time when library services were still segregated by race. She received a bachelor's degree in education from IU in 1950, four years before the U.S. Supreme Court desegregation ruling on Brown v. Board of Education of Topeka, KS. Through a life devoted to education and service, Bingham has played a vital role at the local, state and national levels and at the university. After receiving her B.S., Bingham began her work in library services at Alcorn A&M College in Mississippi, and continued her education with a master's degree from the University of Tulsa in 1961 and a master's degree in library science from IU in 1969.
Throughout her career, Bingham has always been an advocate for equality in education and access. Bingham became director of media services in Louisville for the Kentucky Public Schools in 1969, and later was named director of library media services in the Jefferson County (Ky.) Public Schools, the 26th largest school system in the nation. In 1971, Bingham became the first black president of the Kentucky Library Association (KLA).
"Library science tends to be a more color blind field," observes Bingham. "The focus is on understanding the information itself. Promotion of ideas, validity, integrity—these values are paramount in the profession. Soundness of thinking and creativity hold sway, more so than in other disciplines."
Bingham has also enthusiastically dedicated herself to her alma mater. She served as president and vice-president of the SLIS alumni board, and was a founding member of the Neal-Marshall Alumni Club. "I think I've served in every possible capacity within the club," reflects Bingham. "I have to applaud IU for being a pioneer, as it was among the first universities to have a black alumni club."
Bingham was the first recipient of the SLIS Louise Maxwell Award (later renamed the Distinguished Alumni Award) in 1977, received the 1998 DEMCO/ALA Black Caucus Award for Excellence in Librarianship, and was the 1999 recipient of the Indiana University Alumni Association President's Award. She also was honored with IU's highest alumni recognition, the Distinguished Alumni Award, in 2002. Her achievements are also recorded in the Handbook of Black Librarianship. Bingham's role as a leader and innovator in library science extends far beyond regional or racial concerns. Her distinguished career culminated in her appointment by President Clinton to the U.S. National Commission on Libraries and Information Services in 1998. NCLIS is an independent agency of the federal government, charged by law to advise the President and Congress on national and international library and information services policies and plans. During her tenure as commissioner, Bingham provided insight on issues such as child safety on the Internet, library services for individuals with disabilities, and the role of the school librarian in student performance. She has also worked extensively with the Laura Bush Foundation for America's Libraries.