Honoree
Sandy Altman Knapp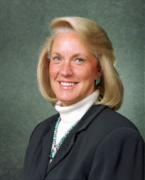 AWARDS
Distinguished Alumni Service Award (2000)

School of Health, Physical Education & Recreation
B.S. 1970

School of Public Health John R. Endwright Alumni Service Award (1998)

Indiana University Bloomington
School of Health, Physical Education & Recreation
B.S. 1970

Stahr Senior Award (1970)

Indiana University Bloomington

BIOGRAPHY
When Sandy Knapp applies her infectious enthusiasm to a project, she is a vigorous, innovative, and effective advocate for that cause. She honed her leadership skills at Indiana University, receiving a B.S. degree in recreation and the Elvis J. Stahr Distinguished Senior Award in 1970. She then embarked on a career in the field of sport, joining the Indiana Pacers as the first woman in management in men's professional basketball.
In 1980, she became president and executive director of Indiana Sports Corporation, a fledgling nonprofit organization that grew under her guidance into a dynamic force in promotion of amateur sports events in Indianapolis. Despite limited resources, ISC and Sports Marketing of Indiana, Inc., its for-profit subsidiary over which she also presided, attracted more than 200 major amateur sporting events to Indianapolis, including the 1987 Pan American Games, co-sponsored by IUPUI. Knapp is skillful at attracting and motivating volunteers, always striving to expand opportunities for women, ethnic minorities, and young people.
In 1991, she resigned from both corporations to move to Austin, Texas, where she works as an independent consultant. Indianapolis lost a champion, but her positive impact on the city's image and economy is her legacy. The U.S. Olympic Committee is among the countless boards on which she serves, and she chairs the board of USA Gymnastics. As a loyal IU supporter, she currently chairs the school of Health, Physical Education and Recreation Endowment Campaign.