Honoree
William R. Baldwin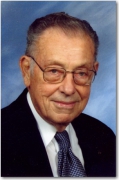 AWARDS
IUPUI Spirit of Philanthropy Award (2005)
Distinguished Alumni Service Award (1977)

M.S., 1956; Ph.D., 1965

School of Optometry Foley House Basement Key Award (1976)
BIOGRAPHY
William Russell Baldwin is one of the most innovative and clear-sighted academic leaders in the field of professional education and service.
Graduating from IU with a doctorate in physiological optics, he combined his studies and teaching assignments with a sensitive commitment to local civic affairs. Demonstrating his deep concern for the broader aspects of the role of an academic institution earned him accolades as an outstanding citizen. His leadership and academic qualities led to his selection as Dean of the School of Optometry of Pacific University, his undergraduate alma mater, where he instigated improvements in every facet of that school's operation. Baldwin served as president of The New England College of Optometry, and rejuvenated that institution, initiating an optometric manpower plan for the Northeast which is now used as the model for planning the establishment of new regional schools of optometry.
The impact of his leadership continued to grow internationally within his profession and in federal agencies concerned with health care. In every accomplishment he quietly and proudly carries the Indiana University banner, a lively leader in alumni clubs both east and west and a key figure in establishing the Indiana University Optometry Alumni Association.