Honoree
Joseph J. Mamlin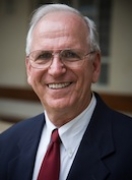 AWARDS
President's Medal for Excellence (2013)

2013 Kenya Gala
Presenter: Michael A. McRobbie

John W. Ryan Award for Distinguished Contributions to International Programs and Studies (2004)

Indiana University Bloomington
School of Medicine

School of Medicine Glenn W. Irwin, Jr. Distinguished Faculty Award (1992)

Indiana University Purdue University Indianapolis (IUPUI)
School of Medicine
M.D., 1966

BIOGRAPHY
From his days spent with the Peace Corps in Afghanistan to his role founding IU's program at the Faculty of Health Sciences at Kenya's Moi University, Joseph Mamlin has shown himself to be a devoted internationalist and humanitarian. Mamlin joined the IU faculty in 1968 and was named chief of the Division of General Internal Medicine and chief of Medicine at Wishard Memorial Hospital in Indianapolis. Under his leadership, IU's primary care teaching mission became the largest and one of the most influential divisions of general internal medicine in the country.
Mamlin also cast his eyes abroad, helping build the medical school in Jalalabad, Afghanistan, and serving as a key player in the creation of the IU–Kenya Program. Established in 1989, more than 500 students and faculty members have participated in the Moi University exchange, the School of Medicine's flagship international program. The partnership between IU and Moi University promotes the values of the medical profession and fosters leaders in health for both the United States and Kenya through medical education, research and service.
Although Mamlin is now officially retired, his peers say that his contributions to the field of medicine may be more significant than ever.
When Mamlin returned to Kenya in 2000 to join the medical school's exchange campus as on-site leader, he set about establishing the Academic Model for the Prevention and Treatment of HIV/AIDS (AMPATH), one of sub-Saharan Africa's largest and most comprehensive HIV control programs.