Honoree
B. Breon Mitchell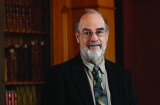 AWARDS
Presidents Circle Laurel Pin (2014)
Distinguished Service Medal (2013)

Teaching excellence dinner
Location: Bloomington
Presenter: Michael A. McRobbie

Frederic Bachman Lieber Memorial Award (1974)

Indiana University Bloomington
College of Arts and Sciences
Department of Comparative Literature

BIOGRAPHY
Breon Mitchell joined the Indiana University Bloomington faculty in 1968, when the Department of German, as it was then known, was the largest in the United States. Holding a joint appointment in comparative literature enabled Mitchell to teach a wide variety of topics, from comparative arts for undergraduates to specialized studies in Anglo-German literary relations for graduate students. Twenty-six years old when he arrived in Bloomington, he was younger than many of his graduate students, and for the first few years he regularly sat in on courses offered by his distinguished colleagues to continue to learn from them.
Soon after he began teaching in Bloomington, the Lilly Library became a second home for Mitchell. He visited there almost daily and learned steadily from the outstanding staff. He was proud to co-found, with Gary Steigerwald, the Friends of the Lilly Library, and to serve as the chair of the Lilly advisory committee for many years. With his wife, Lynda Mitchell, he assembled exceptional collections representing authors such as Franz Kafka, Samuel Beckett, and J. M. Coetzee. An early academic focus for Mitchell was literary translation. Together with his friend, the future novelist Philip Kimball, Mitchell had established a bilingual literary magazine in German and English while still an undergraduate at the University of Kansas. His love of translation continued throughout his career, which in later years turned increasingly toward the publication of works by Nobel Prize winners and other major writers. His friendships with many of these authors continued over decades.
Mitchell became a charter member of the American Literary Translators Association and served as its president and as a longtime member of its executive board. Mitchell's academic career also included a great deal of administrative work. He served for three years as associate dean for the humanities in the College of Arts and Sciences, gaining valuable insights into the inner workings of a major university and serving with some of the best administrators of the time. He left that position to serve as chair of the Department of Comparative Literature for 12 years and was proud of the outstanding faculty members whom he was able to recruit and keep in Bloomington. He enjoyed contributing to the emergence of comparative literature as a major discipline, opening up new directions in scholarship both in the United States and abroad.
Upon leaving departmental administration, Mitchell was asked to help found and develop the Wells Scholars Program, which offers privately endowed scholarships to the very best students from Indiana and throughout the nation. His first task was to work with the IU Foundation by speaking at fundraising events around the country. In his initial year, he made more than 50 special presentations to major donors in New York City, Washington, D.C., San Francisco, Los Angeles, Detroit, and many smaller cities. Within 18 months, the IU Foundation had gathered pledges of more than $21 million, and the program was under way. The first class arrived in 1990, and Mitchell remained as the program's director for 12 years.
Mitchell's final years at IU brought a welcome return to the Lilly Library, which he directed from 2001 until his retirement in 2012. At the Lilly, he was able to combine his love of rare books and manuscripts with a commitment to building research collections of international importance. In addition to continuing to support the Lilly's traditional areas of excellence, he sought to move in new directions, including a special emphasis on world languages and literatures and translation studies. For Mitchell, who has spent a lifetime with books in all of their aspects, his work at the Lilly Library was a particularly happy conclusion to his 44 years of service to Indiana University.