Honoree
John A. Boquist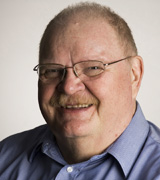 AWARDS
Titled Professor (1996)

Edward E. Edwards Professor of Finance
Indiana University Bloomington

Herman Frederic Lieber Award (1979)

Indiana University Bloomington
Kelley School of Business
Department of Business Finance

BIOGRAPHY
John A. Boquist is the Edward E. Edwards Professor of Finance in the Graduate School of Business at Indiana University. His areas of expertise include corporation finance, financial strategy and analysis, banking and investments. He has served as the Project Director of a USAID grant to help managers and faculty members from Poland, Hungary, and Czechoslovakia make the transition from a command economy to a market economy. He is an experienced teacher, researcher, consultant, and administrator.
Boquist also served as the Director of Executive Education for the School of Business from 1985-1990. During this period, he was responsible for the development and growth of all non-degree programs offered by the School of Business. From 1977 to 1989 he was active as Executive Director for four years and Trustee of the Financial Management Association, a professional group that has the stated objective of bridging the gap between financial theory and practice.
Professor Boquist is the co-author of a case book and numerous research articles and papers. He is a frequent participant in national professional meetings as a paper presenter, as a paper discussant, and as a session chair.
Professor Boquist has taught at the undergraduate and the graduate levels, with recent emphasis on corporate financial strategy at the MBA level. He has taught banking, investments, financial policy, financial planning, and financial management. In 1981-82, 1991, and 1992-93, Professor Boquist was a visiting faculty member at INSEAD, the international business school located in Fontainbleau, France. He is the recipient of university teaching awards at Indiana and INSEAD. In 1994 he was recognized by Business Week magazine as one of the "masters of the classroom in MBA education."
Professor Boquist has extensive teaching experience in executive education programs around the world. He also serves as a frequent consultant in the areas of corporate finance, policy and strategy, public utility regulation, and litigation testimony.
Professor Boquist holds an undergraduate degree in Industrial Engineering from General Motors Institute, and a Master of Science and a Ph.D. degree in Industrial Administration from Purdue University.