Honoree
Adam M. Robinson, Jr.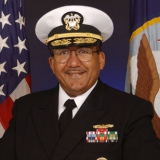 AWARDS
Distinguished Alumni Service Award (2011)

School of Medicine
B.A., 1972; M.D., 1976

College of Arts and Sciences Distinguished Alumni Award (2011)

Indiana University Purdue University Indianapolis (IUPUI)
School of Medicine
B.A., 1972; M.D., 1976

Honorary Degree (2010)

L.H.D.
Doctor of Humane Letters
Commencement
Location: Bloomington
Presenter: Michael McRobbie

School of Medicine Distinguished Alumni Award (2008)

Indiana University Purdue University Indianapolis (IUPUI)
School of Medicine
B.A., 1972; M.D., 1976

BIOGRAPHY
Robinson, a native of Louisville, Ky., earned a Bachelor of Arts in political science at IU Bloomington in 1972 and a medical degree from the IU School of Medicine in 1976. He also earned a Master of Business Administration degree from the University of South Florida in 1995.
He was commissioned into naval service in 1977 after completing his surgical internship at Southern Illinois University School of Medicine, Springfield.
The 36th surgeon general of the Navy and chief of the Bureau of Medicine and Surgery since 2007, Robinson oversees medical operations and services for that branch of the armed services. It includes 60,000 employees and has an annual budget of $3 billion.
Over the past 33 years, Robinson has held numerous administrative medical positions with the Navy in Japan, Puerto Rico and the United States and with the U.S. Atlantic Fleet. He has served as ship's surgeon on the aircraft carriers USS Midway, USS John F. Kennedy and USS Coral Sea. From 2003 to 2007, he served as chief of the National Naval Hospital at Bethesda, Md., which also is known as "The President's Hospital."
He also has been head of the General Surgery Department, director of the General Surgery Residency Program and acting medical director of the Naval Medical Center in Portsmouth, Va., and has been executive officer of Naval Hospital Jacksonville.
"Admiral Robinson's career is a study in dedication and commitment to public service," said John D. Graham, dean of the IU School of Public and Environmental Affairs. "Beyond simply overseeing a vast medical network, Admiral Robinson has helped formulate, develop and implement major military health policies for all the service branches. In addition, he coordinates much of U.S. military humanitarian assistance efforts around the world."
In January 1999, as Fleet Hospital Jacksonville commanding officer, Robinson commanded a detachment of the hospital as a medical contingent to Operation New Horizon/Uphold Democracy in Haiti. He returned to the Caribbean country this year during the aftermath of January's devastating earthquake with USNS Comfort and participated in relief efforts of the Navy there.
Robinson in 2000 was selected as the principal director of clinical and program policy in the Office of the Assistant Secretary of Defense for Health Affairs, where he also served as the acting deputy assistant secretary of defense for health affairs, clinical and program policy.
The author of numerous presentations and publications, Robinson holds fellowships in the American College of Surgeons and the American Society of Colon and Rectal Surgery. He is a member of the Le Societe Internationale de Chirurgie, the Society of Black Academic Surgeons and the National Business School Scholastic Society Beta Gamma Sigma. He holds certification as a Certified Physician Executive from the American College of Physician Executives.
His personal decorations include the Distinguished Service Medal (twice), Legion of Merit (also twice), Defense Meritorious Service Medal (two awards), Meritorious Service Medal (three awards), Navy Commendation Medal, Joint Service Achievement Medal, Navy Achievement Medal and various service and campaign awards.
In 2008, the IU School of Medicine presented him with its Distinguished Alumni Award.
Russell L. Hanson, chair of the IU Department of Political Science in the College of Arts and Sciences, said the honorary degree for Robinson "is fitting recognition for a life-long pursuit of higher education in support of a higher calling to serve and bind the wounds and ease the suffering of humanity."