Honoree
Darwin L. Wiekamp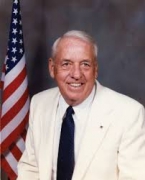 AWARDS
IUSB Chancellor's Medallion (2005)

IUSB Chancellor's Medallion
Location: South Bend

Honorary Degree (2001)

L.H.D.
Doctor of Humane Letters
Commencement
Location: South Bend
Presenter: Myles Neil Brand

Partners in Philanthropy (2001)

Herman B Wells Visionary Award

President's Medal for Excellence (1998)

Wiekamp Hall Dedication
Location: South Bend
Presenter: Myles Brand

BIOGRAPHY
In 1945, Darwin Wiekamp and a friend founded Owners Discount Corp. in Elkhart, Ind. They had little capital but a strong vision: They would serve the customers that other banks ignored and specialized in small loans for cars and new businesses.
Wiekamp then took a risk and bought the West End Bank of Mishawaka. He began aggressive lending programs to the less fortunate segments of the community. With great success, he acquired other banks, turning his initial $64,000 in capital into a financial corporation eventually worth hundreds of millions. Banking may have been his number one passion, but community service was a close second. He led campaigns to raise money for public television and the St. Joseph Hospital. With nine other businessmen, Wiekamp founded the Mishawaka Futures Industrial park, which has grown to include 20 small businesses and hundreds of jobs.
Now retired, Wiekamp and his wife, Dot, devote their time to the Dar and Dot Center in South Bend, a refuge for the homeless. He serves on numerous boards and has been recognized by IU with an honorary degree. He received the W. Scott Miller Distinguished Business Leader Award and the Individual Philanthropist Award from the Michiana Chapter of the Association of Fund Raising. He was a 33rd Degree Mason of the Scottish Rite.
He died in 2008.