Honoree
W. Quinn Buckner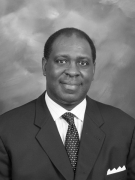 AWARDS
Bicentennial Medal (2019)
Z.G. Clevenger Award (2014)

B.S., 1976

IUB Athletics Hall of Fame (1986)

B.S., 1976

Olympians (1976)

Men's Basketball
United States of America
Location: Montreal
Event: Basketball
Finish: Gold Medalist

BIOGRAPHY
W. Quinn Buckner is an IU alumnus, lifetime member of the IU Alumni Association, and member of the IU Board of Trustees. Buckner holds a B.S. in general management from the IU Kelley School of Business. While a student at IU Bloomington, he played football for two years before deciding to focus on basketball. He was also a member of Alpha Phi Alpha fraternity. Buckner received the men's basketball team MVP award in 1975. He was inducted into the IU Athletics Hall of Fame in 1986 and is a member of the I Association.
Buckner played basketball 1973-76 and was captain 1974 and 1976. He played football from 1973-74. Buckner played on four Big Ten championship teams and helped lead 1976 team to a NCAA title. He was IU's co-MVP in 1975, All-Big Ten in 1974 and 1975, and an All-American in 1975 and 1976. He was a starter and captain of the 1976 Olympic basketball team. Buckner shares with Magic Johnson and Jerry Lucas the distinction of winning a basketball championship at every level: high school, college, the Olympics and the NBA.
Buckner has spent over 15 seasons as a cable TV color analyst for the Indiana Pacers on Fox Sports, and was named vice president of communications for Pacers Sports & Entertainment in 2004. In 2011 he was elected to the Indiana University Foundation Board of Directors. In 2016, Buckner was appointed to the IU Board of Trustees by then Governor Mike Pence. He is an active member of the community serving on the Pacers Foundation, Community Health Network Foundation, Indianapolis Children's Choir Advisory Council, USA Basketball, Indiana Youth Institute, Special Olympics of Indiana, YMCA, Indianapolis Zoological Society, and the Big Ten Advisors Council. Buckner is a partner in Mack Financial.
Buckner received the IU Bicentennial Medal in September 2019 in recognition of his distinguished service as a member of the IU Board of Trustees.