Honoree
Charles G. Hornbostel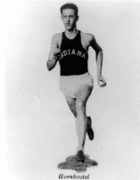 AWARDS
IUB Athletics Hall of Fame (1984)
Kelley School of Business Academy of Alumni Fellows (1978)

Indiana University Bloomington
B.S., 1934

Z.G. Clevenger Award (1973)

B.S., 1934

Distinguished Alumni Service Award (1972)

B.S., 1934

Olympians (1936)

Men's Track and Field
United States of America
Location: Berlin
Event: 800-M-Run
Finish: 5th

Olympians (1932)

Men's Track and Field
United States of America
Location: Los Angeles
Event: 800-M-Run
Finish: 6th

BIOGRAPHY
Charles C. Hornbostel was a former holder of the world-best time for the 600-yard run indoors and the first full-time president of Financial Executives Institute. In 1936, he ran 600 yards in the Millrose Games at Madison Square Garden in 1 minute 11.3 seconds, the fastest the distance had ever been covered indoors.
Hornbostel, born in Evansville, Indiana, was a co-captain of the track team in his senior year at Indiana University. He won the national collegiate title in the 880-yard run in 1932, 1933 and 1934 and won the Amateur Athletic Union championship in the 1,000-yard run in 1934 and 1936. He represented the United States in the Olympics of 1932 and 1936 in the 800-meter run, finishing sixth and fifth.
Hornbostel joined Financial Executives Institute, the professional association of corporate chief financial officers, in 1947 and was president and chief executive officer from May 1971 to October 1978.
He won 10 Big Ten titles in the 880, mile and mile relay, an IU record for over half a century. He held NCAA record in the 800 meters, world record in the 600 meters and was a member of two Big Ten championship cross country teams and placed 11th when Hoosiers won AAU title in 1931. Charles won the 1934 Distinguished Alumni Service Award and has won Z.G. Clevenger Award.