Honoree
Gayle Karch Cook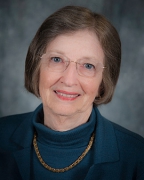 AWARDS
Bicentennial Medal (2019)
College of Arts and Sciences Distinguished Alumni Award (2015)

B.A., 1956

Presidents Circle Laurel Pin (2014)

Founder

President's Medal for Excellence (2010)

Bill Cook Lecture
Location: Bloomington, Indiana
Presenter: Michael A. McRobbie

Distinguished Alumni Service Award (2003)

B.A., 1956

Partners in Philanthropy (2000)

Herman B Wells Visionary Award

Honorary Degree (1993)

L.H.D.
Doctor of Humane Letters
Commencement
Location: Bloomington, Indiana
Presenter: Thomas Ehrlich

Gertrude Rich Award (1983)

Indiana University Bloomington
B.A., 1956

BIOGRAPHY
Gayle Cook is a 1956 Phi Beta Kappa graduate of Indiana University with a B.A. in Fine Arts.
In association with her husband, William Cook, Gayle Cook has developed their Bloomington-based business, Cook Medical, into one of the world's largest medical device manufacturing companies. Despite the demands of a growing business, she has, through the years, been an active and highly successful advocate of historic preservation. Gayle Cook has restored a number of historic buildings in southern Indiana, including the Colonel William Jones house in Gentryville, the plantation-style Cedar Farm in Laconia, the Graham Hotel and the James Cochran House in Bloomington and the famous French Lick Resort in French Lick Springs. She was also instrumental in the development of Fountain Square on the south side of Courthouse Square in Bloomington. In October of 1991, Cook and her husband made a gift of the Colonel William Jones House and one hundred wooded acres to the State of Indiana. The Federal-style house became Indiana's sixteenth State Historic Site.
Ms. Cook has shared her passion for the area's landmarks through two books, A GUIDE TO SOUTHERN INDIANA (with William Cook) and MONROE COUNTY IN FOCUS: PORTRAIT OF AN INDIANA COUNTY (with Diana Hawes and Will Counts). She is a member of the Historic Landmarks Foundation of Indiana, a founder of the Monroe County Historical Society Museum, and a Landmark member of the Nature Conservancy.
Ms. Cook has maintained close ties to her alma mater as a board member of the Indiana University Foundation, a life member of the Alumni Association and the Woodburn Guild, and a member of the Well House Society. She and her husband have made substantial gifts to the Schools of Music, Education, Medicine and Business, and have supported Athletics, the Wylie House Museum and research in the College of Arts and Sciences.
Ms. Cook received the Preservation Award from Bloomington Restorations, Inc., in 1981, the Gertrude Rich award from the IU Alumni Association in 1983, the Sandi Servaas Memorial Award from Historic Landmarks Foundation of Indiana in 1984, the Civic Service Award from the Indiana Association of Cities and Towns in 1987, and the National Trust's Honor Award for preservation of the historic West Baden Springs Hotel in 2007.