Honoree
George N. Gill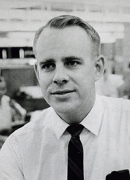 AWARDS
The Media School Distinguished Alumni Award (2012)

B.A., 1957; L.H.D., 1994

Honorary Degree (1994)

L.H.D.
Doctor of Humane Letters
Commencement
Location: New Albany
Presenter: Thomas Ehrlich

Distinguished Alumni Service Award (1984)

B.A., 1957; L.H.D., 1994

BIOGRAPHY
George Gill started out as a copy editor at The (Louisville, Kentucky.) Courier-Journal and retired 33 years later as the paper's publisher. He was a reporter, city editor and managing editor before switching to the business side of the paper. His obituary in the Courier-Journal described his "gruff manner, sardonic wit and abiding passion for good journalism."
As a reporter, Gill covered John Glenn's first space flight, and he asked Richard Nixon the question to which the president famously responded, "I am not a crook."
Gill became the paper's general manager and, eventually, president of all Bingham properties, including the Courier-Journal, WHAS-TV and radio, and other enterprises. When the Bingham family sold to Gannett in 1986, Gill guided the paper through the sale, and was named publisher and president of the Courier-Journal. Under his leadership, the paper won six Pulitzer Prizes. From his post at the Courier-Journal, Gill led economic development activities in Louisville, bringing together competing interests to improve the city's business climate.
In addition to his economic development activities, he served terms as board chairman of the American Printing House for the Blind, president of the Louisville Rotary Club and the Chamber of Commerce, and campaign chairman of Metro United Way.
While a student at IU, Gill served as editor of the Indiana Daily Student. He met his wife, Kay Baldwin, in the newsroom. She, too, was a Daily Student editor. He later served on the Publications Board, which selects the Daily Student editor-in-chief. In 1984, he was a recipient of IU's Distinguished Alumni Service Award. He received honorary doctorates from Spalding University and IU, and is a member of the Kentucky Journalism Hall of Fame. After his retirement in 1993, Gill enjoyed working on Habitat for Humanity building crews. In 2008, he donated his papers from the Courier-Journal to the School of Journalism. He died in 2010.