Honoree
James W. Dye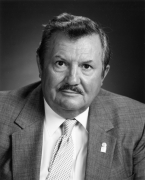 AWARDS
Bicentennial Medal (2019)
Presidents Circle Laurel Pin (2014)

Benefactor

Honorary Degree (2009)

L.H.D.
Doctor of Humane Letters
Honors Convocation
Location: Gary
Presenter: Michael McRobbie

Z.G. Clevenger Award (2003)

B.S., 1953

BIOGRAPHY
Local philanthropist and businessman James W. Dye, an IU alumnus and former trustee, was a longtime friend and benefactor of IU, of IU Northwest, and education in Northwest Indiana. Dye earned a B.S. in business from IU Bloomington. Dye was appointed to the IU Board of Trustees in 1984 by Governor Robert Orr and served two, three-year terms.
During his undergraduate career, Dye was a member of Sigma Chi fraternity, I-Men's Club, basketball manager, chairman of Student Spirit, and in Army ROTC. Upon graduation, Dye was commissioned as a first-lieutenant and joined the United States Army Corps of Engineering where he served until 1956.
A successful businessman, Dye served as president of ten businesses and organizations, including Griffin Materials Corporation; Mansards, Inc.; Standard Lumber Company; and Dye Family Farms. From 2017-2019, he served as president of JWD Management, Inc. and as president of the James W. and Betty Dye Foundation. Dye's nonprofit organization has supported numerous programs and scholarships at IU and other universities, including the Jim and Betty Dye Scholarship for Nontraditional Students at IUN.
Dye has been recognized for his leadership and philanthropy with many awards and honors including the Griffith Boss of the Year (1972); Sagamore of the Wabash (2981), St. Margaret's Hospital Man of the Year, Hammond, IN. (1997); Z.G. Clevenger Award from IU (2003); Calumet Region Sportsmanship Committee Humanitarian Award (2007); Individual Philanthropist Award from the Association of Fundraising Professionals (Indiana NW Chapter) (2010); and was inducted into The Times' Northwest Indiana Business and Industry Hall of Fame (2010). In a special academic ceremony at IUN, Dye was awarded the Doctor of Human Letters by in recognition of his service and achievements on behalf of IU and the region. Dye was also recognized at the 24th Annual IUN Gala Celebration later that evening at Avalon Manor in Hobart.
Dye received the IU Bicentennial Medal in September 2019 in recognition of his distinguished service on the IU Board of Trustees.
James W. Dye passed away on Oct. 24, 2019.