Honoree
Joseph Hayes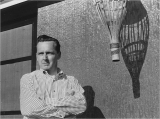 AWARDS
Honorary Degree (1970)

L.H.D.
Doctor of Humane Letters
Library Dedication
Location: Bloomington
Presenter: Joseph Sutton

Distinguished Alumni Service Award (1966)

1942; L.H.D., 1970

BIOGRAPHY
Joseph Arnold Hayes, award-winning American author and playwright, was born on Aug. 2, 1918, in Indianapolis. The son of a furniture factory worker, Hayes considered joining the priesthood, but after a brief, unhappy stint in a Benedictine monastery at the age of 13, he changed his mind. Hayes later enrolled at Indiana University in 1938, and upon graduation in 1941, left for New York City, taking jobs as a writer for both radio and television. It took only eight years for his first play, Leaf and Bough, to be produced on Broadway. Hayes' sophomore effort proved to be more successful, when in 1954, his novel The Desperate Hours, was published to much critical and commercial success.
The Desperate Hours would prove to be Hayes' opus, cementing his position in both the literary and theatrical worlds. In 1955, the novel was adapted into a play for Broadway, as well as into a film script, both by Hayes. Speaking on the novel, New York Times critic Orville Prescott called it "an expert study of the agonizing dilemma of a group of sharply delineated and deeply understood characters," and the theatrical production, which starred a young Paul Newman, won the 1955 Tony Award for best play. The film version, directed by William Wyler and starring Humphrey Bogart, won an Edgar Award in 1956.
Hayes continued over the next three decades to work in theater and write books, most of them crime fiction. He co-directed and produced a comedy, "The Happiest Millionaire" on Broadway in 1956, and in 1962, he wrote a thriller, "Calculated Risk," which would be his last play on Broadway. Additionally, Hayes had long collaborated with his wife, Marrijane, on plays and books, and in 1962 they wrote "Bon Voyage!," a movie produced by Disney.
His other books include Ways of Darkness, No Escape, Winner's Circle, Island on Fire, Missing...and Presumed Dead, The Long Dark Night, Like Any Other Fugitive, The Deep End, The Third Day, Don't Go Away Mad, and The Hours After Midnight.
Hayes was the recipient of the Charles H. Sergel Drama Prize awarded by the University of Chicago in 1948, and he won the Indiana authors Day Award in fiction for The Desperate Hours in 1955.
With Marrijane, he raised three children, Daniel, Gregory, and Jason. They were the grandparents of five grandchildren.
Joseph Hayes passed away on Sept. 11 in St. Augustine, Fla., where he lived. He was 88.