Honoree
Judith O'Bannon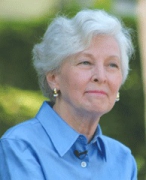 AWARDS
Distinguished Alumni Service Award (2005)

B.S., 1957

IU Southeast Chancellor's Medallion (2005)

IU Southeast Chancellor's Medallion
Location: New Albany
Presenter: Sandra R. Patterson-Randles

Honorary Degree (2004)

L.H.D.
Doctor of Humane Letters
Commencement
Location: Bloomington
Presenter: Adam William Herbert

IUPUI Spirit of Philanthropy Award (1998)
BIOGRAPHY
O'Bannon, who graduated Phi Beta Kappa in 1957 from IU with a bachelor of arts degree, has spent much of her adult life supporting and promoting efforts to strengthen Indiana communities. She served in a variety of leadership roles, including currently as a trustee of the National Trust for Historical Preservation. For years, she has been dedicated to volunteerism and philanthropy in Harrison County and in southern Indiana. She also served her church on both the local and state levels, founding "Santaland," a holiday gathering that provides food, gifts and neighborhood support to more than 1,000 people each year.
During her time as First Lady of Indiana, she spearheaded the drive to make the governor's residence accessible to people with physical disabilities. Throughout her seven years in that role, she initiated activities that brought more than 400 special needs children to the state residence to experience and participate in the arts.
She serves as chairwoman of the 25-member Indiana 2016 Task Force, which encourages Hoosiers to prepare for the bicentennial birthday of the state.
As a student, she was selected as the first woman to attend the Louisville Presbyterian Theological Seminary. Eight universities, including IU, have recognized her achievements with honorary degrees. IU Southeast presented her with its Chancellor's Medallion earlier this year. The Indiana Historical Society presented her with a Living Legends Award in 2004.