Honoree
Sue H. Talbot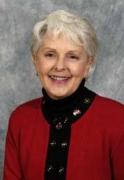 AWARDS
Honorary Degree (2019)

L.H.D.
Doctor of Humane Letters
IU Bloomington Undergraduate Commencement
Location: Bloomington, Indiana
Presenter: Michael A. McRobbie

Bicentennial Medal (2019)
Distinguished Alumni Service Award (2011)

School of Education
B.S., 1966; M.S., 1971; Ed.D, 1992

IUAA President's Award (2002)
Thomas Hart Benton Mural Medallion (1994)

Benton presentation ceremony
Location: Bloomington, Indiana
Presenter: Thomas Ehrlich

Gertrude Rich Award (1984)

Indiana University Bloomington
B.S., 1966; M.S., 1971; Ed.D, 1992

School of Education Distinguished Alumni Award (1984)
BIOGRAPHY
A legendary educator, Sue Talbot was born in Bloomington and attended Indiana University, earning a bachelor's, master's, and doctoral degree in the School of Education. After 20 years as a first-grade teacher, she worked in Indiana government for more than a decade, serving on the state's education commission, as a special assistant for education to then-Governor Robert Orr, and as a member of the Indiana Policy Study Group. Talbot then joined the professional staff of Indiana University, first as assistant director of the Office of State Relations and then as the founding director of Hoosiers for Higher Education (HHE), which she established in 1991. She was solely responsible for the development and execution of the master plan that conceived of HHE as one of the first university-based grassroots organizations in the country. Thanks to her unparalleled organizational and leadership skills as well as her indefatigable commitment to creating a model advocacy program, HHE has become one of the nation's leading organizations of its kind, renowned for upholding best practices in government relations.
Talbot also served as associate director of IU's Leadership in Education Administration Development (LEAD) program in the School of Education and as director of alumni education programs for the IU Alumni Association. She was an elected member of the IU Board of Trustees from 2001 to 2010. Her service on the Board of Trustees was distinguished by her staunch defense of public education and her articulate, capable leadership in the face of political and financial pressures. Honors bestowed upon Talbot include the 1978 Indiana Teacher of the Year Award, the IU Alumni Association President's Award, the School of Education Distinguished Alumnus Award, the Gertrude Rich Award, and the Elizabeth Greenleaf Scholarship Award. Talbot has been designated twice as a Sagamore of the Wabash, a special recognition bestowed by Hoosier governors. In honor of Talbot's dedication and commitment in creating Hoosiers for Higher Education, the Sue H. Talbot Distinguished HHE Member Award was established. This honor is bestowed annually on an HHE member whose dedication to and volunteer work for HHE exemplifies Talbot's generous spirit and loving support of Indiana University.
In 2019, Indiana University awarded Sue H.Talbot with an Honorary Doctor of Humane Letters at its spring undergraduate commencement ceremony in Bloomington, Indiana for her outstanding achievement to the humanities, and for her continued commitment to community engagement and public service.
Talbot received the IU Bicentennial Medal in September 2019 in recognition of her distinguished service as a member of the IU Board of Trustees.