Honoree
William S. Armstrong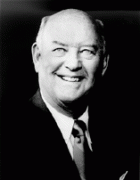 AWARDS
IUB Athletics Hall of Fame (1994)
Distinguished Alumni Service Award (1988)

B.S., 1951

Z.G. Clevenger Award (1983)

B.S., 1951

School of Dentistry Honorary Member Award (1982)

Indiana University Purdue University Indianapolis (IUPUI)
School of Dentistry
B.S., 1951

BIOGRAPHY
William Sansom Armstrong built the Indiana University Foundation into one of the most successful of its kind in the nation. His splendid contributions enhanced IU's stature as a distinguished institution of higher learning.
He won a baseball letter in 1940 and served as Executive Director and President of the IU Foundation from 1952-83. As fundraiser and Athletic Department consultant, he aided IU Athletics in many significant ways. He was instrumental in starting men's soccer as varsity sport, women's varsity sports and the Student Athletic Board. Bill helped establish the Indiana Classic. Armstrong Stadium, used for soccer and Little 500 bicycle race, named in his honor.
As a young alumnus, he was known for a firm handshake, enthusiastic greeting, and astute planning ability. Due to his positive experience as an undergraduate athlete, he foresaw the value of alumni scholarship support of varsity sports, and organized the "I"-Men's Club, serving as its first president. During his 31-year tenure as Executive Director and then President, the University's fund-raising arm expanded from a small base of donors and dollars to a multimillion dollar organization, supported by tens of thousands of alumni and friends. His clear vision of the goal of the Foundation, to assist the University in developing peaks of excellence for which state funds are not available, and his articulate advocacy of those goals built scholarships, faculty support, and important structures on all IU's campuses.
Friend and counselor to undergraduates, Mr. "A" became an institution within an institution as he encouraged the growth of the Student Foundation which stages "The World's Greatest College Weekend" and which builds alliances between students and Alma Mater that last through the long alumni years.