Honoree
R. Keith Michael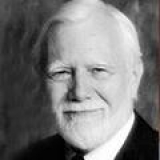 AWARDS
Presidents Circle Laurel Pin (2018)

Benefactor

Honorary Degree (2002)

L.H.D.
Doctor of Humane Letters
Dedication Neal-Marshall Drama Theatre
Location: Bloomington
Presenter: Myles Neil Brand

BIOGRAPHY
R. Keith Michael received his undergraduate degree from Indiana University of Pennsylvania, M.F.A. from the University of Iowa, Ph.D. from the University of Bristol, England, and, in 2002, received an honorary doctorate from Indiana University.
Michael began his career as a professional actor, subsequently built and managed two professional theatres, produced over 400 plays, and served as an officer of numerous professional organizations including the presidency of the National Association of School of Theatre (NAST). Alongside his wife, Marion, Michael has resided in Bloomington since 1971 when Keith was asked to serve as the first chair of the newly created Department of Theatre and Drama at Indiana University. He continued on as chair and artistic director of the department and producer and artistic director of the Brown County Playhouse until his retirement in 1996. He was elected a member of the National Theatre Conference in 1971, received the Indiana Governor's Arts Award in 1997, and was honored as a Fellow of the College of Fellows of American Theatre in 1999.
In addition to his thespian background, Michael is an avid fan of IU athletics and longtime season ticket holders for men's basketball and football. Michael is a loyal supporter of the Department of Theatre and Dram, IU Radio & TV, IU Auditorium, and the Eskenazi Museum of Art at IU. For his generous support, he was presented the Presidents Circle Laurel Pin.