Honoree
Myles Neil Brand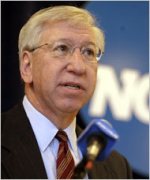 AWARDS
Honorary Degree (2009)

L.H.D.
Doctor of Humane Letters
Honors Convocation
Location: Bloomington
Presenter: Michael McRobbie

IUPUI Maynard K. Hine Medal (2007)

Indiana University Purdue University Indianapolis (IUPUI)
Ph.D.

University Medal (2002)

Trustees Recognition Dinner
Location: Indianapolis
Presenter: Board of Trustees

BIOGRAPHY
Dr. Myles N. Brand, visionary leader, educator and reformer, who was serving as President of the National Collegiate Athletic Association (NCAA) has died after a heroic battle with pancreatic cancer. He was 67.
Brand took the helm of the NCAA in January, 2003. In his first state of the association address that year, Brand said his presidency would be structured on two platforms: academic reform and advocacy of intercollegiate athletics - promises Brand made good on in his six year tenure.
Termed by many the "education president," Brand presided over passage of the most comprehensive academic reform package for intercollegiate athletics in recent history - a package that refocused the attention of student-athletes, coaches and administrators on the education of student-athletes. Brand also changed the national dialog on college sports to emphasize the educational value of athletics participation and the integration of intercollegiate athletics with the academic mission of higher education. His tenure helped re-establish the indispensable role of university presidents in the governance of college sports.
During the eight years Brand served as president of Indiana University, the institution experienced tremendous growth in almost every area including record enrollments and fundraising. Research grants and contracts more than doubled; the size of the university's endowment and the number of endowed chairs and professorships grew threefold. He provided national leadership in the areas of life sciences and information technology, overseeing the development of the IU School of Informatics. Brand's many contributions were recognized this past spring with an honorary Doctor of Humane Letters degree from Indiana University.
Born May 17, 1942, in Brooklyn, New York, Brand was educated at Rensselaer Polytechnic Institute and the University of Rochester. He started his career in academia as a philosophy professor at the University of Pittsburgh in 1967. He then went on to the University of Illinois at Chicago where he began a rapid ascension in academic leadership positions that lead him to the University of Arizona, The Ohio State University, and the University of Oregon where he served as president for five years from 1989-1994. In 1994, Indiana University named Dr. Brand their sixteenth president, a post he held until he took over the presidency of the NCAA in 2003.