Honoree
Sam Bell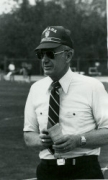 AWARDS
IUB Athletics Hall of Fame (2003)
Bill Orwig Award (1997)
Olympians (1976)

Men's Track and Field
United States of America
Location: Montreal
Event: Distance Coach

BIOGRAPHY
Sam Bell has a long and successful record of service to track and field and cross country. He served his fellow coaches as president of the United States Track Coaches Association from 1997-2002. He previously served as president of the Division I Track Coaches Association from 1979-80. He was also one of the driving forces behind the creation of the Athletics Congress, which replaced the AAU as the governing body of track and field in the united states.
In addition to a successful 40-year coaching career in the college ranks, with stops at Oregon State and California before his tenure in Bloomington, he enjoyed a fruitful international coaching career. He served as an assistant coach for the 1976 U.S. Olympic team, and he was head coach of the 1979 U.S. World Cup team.
In 29 years at the helm of the Indiana track and cross country programs, Bell's teams won 11 Big Ten indoor track and field titles, eight outdoor league titles and three cross country crowns. At the national championship level, Bell directed the Hoosiers to top-10 finishes in cross country (five times), outdoor track (three times) and indoor track (twice). Bell coached 141 Big Ten outdoor individual champions, 92 Big Ten indoor champions, 69 outdoor All-Americans, 63 indoor All-Americans, 15 cross country All-Americans, 11 Olympians and two cross country national champions.
Sam was awarded the Bill Orwig Award in 1997, and is a member of the class of 2000 of the USTFCCCA Hall of Fame and was inducted into the Indiana University Athletics Hall of Fame in 2003.