Honoree
Rebecca T. Markel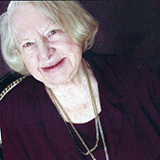 AWARDS
IUPUI Spirit of Philanthropy Award (2002)
School of Nursing Special Recognition Award (1997)

Indiana University Purdue University Indianapolis (IUPUI)

Gertrude Rich Award (1989)

Indiana University Bloomington
School of Nursing
B.S., 1959; M.S.N., 1972; Ed.D., 1986

IUPUI Maynard K. Hine Medal (1979)

Indiana University Purdue University Indianapolis (IUPUI)
B.S., 1959; M.S.N., 1972; Ed.D., 1986

BIOGRAPHY
Dr. Rebecca Markel received her diploma in nursing in 1956 from The Christ Hospital in Cincinnati, then earned three degrees from Indiana University (BSN, Ed,'59; MSN,'72; EdD,'86), which set in motion longstanding and deep bonds with the entire Indiana University community. She joined the Indiana University School of Nursing faculty in 1968, and in 1989 began serving in an administrative position as Assistant Dean for Development--the first full-time development officer for the School. Dr. Markel retired from IUSON in December, 1997.
Her accomplishments were many. As a leader within Sigma Theta Tau International (nursing's prestigious honor society), she worked willingly and passionately with established and fledgling chapters to inspire them with a commitment to the highest standards. She promoted these high standards through her special kind of dedicated international leadership--serving during a crucial period of history as Second Vice President, chairing the educational development committee, and participating as a member of the international task force. Dr. Markel traveled throughout this country and the world participating in the chartering of over 60 new chapters. She contributed in preparing for the association's gala 75th Anniversary Celebration, weaving into all she did her vast historical knowledge.
Dr. Markel guided the School of Nursing through its first major campaign to establish the Emily Holmquist Professorship in Pediatric Oncology Nursing. She also served as chair of the University School of Nursing's 85th Anniversary Steering Committee in 1999 and was a member of the comprehensive campaign Leadership Committee for Nursing. She and Dean Emerita Elizabeth Grossman helped establish the Grossman/Markel Heritage Fund to encourage unrestricted gifts of $500 or more to the School of Nursing during the comprehensive campaign, and Dr. Markel also finalized her own planned gift to the school, valued at approximately $250,000.
Dr. Markel's many accomplishments and her enormous and outstanding contributions to the School, the University, and the nursing profession were recognized with numerous honors and awards. They included: School of Nursing's Emily Holmquist Lifetime Achievement in Nursing Award (1997); Dorothy Garrigus Adams Founders Award from Sigma Theta Tau International for Excellence in Fostering Professional Standards (1993); Distinguished Leadership Award from Alpha Chapter of Sigma Theta Tau International (1987); Glenn W. Irwin, Jr., MD, Experience Excellence Award (1984). She was voted "top administrator" at IUPUI by student organizations. Upon the occasion of her retirement Dr. Markel was presented with a Sagamore of the Wabash signed by Governor Frank O'Bannon in which her contributions to Indiana University were specifically mentioned. Dr. Markel was also a member of IU's President's Circle, recognizing her significant philanthropic gifts to IU Athletics and the School of Nursing.