Honoree
Patrick A. Shoulders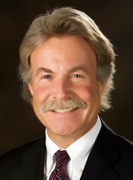 AWARDS
Bicentennial Medal (2019)
IUS Chancellor's Medallion (2016)

IUS Chancellor's Medallion
Location: New Albany

IUPUI Maynard K. Hine Medal (2005)

Indiana University Purdue University Indianapolis (IUPUI)
B.A., 1975; J.D., 1978

BIOGRAPHY
Pat Shoulders is a partner with the law firm of Ziemer, Stayman, Weitzel & Shoulders, where he concentrates his practice in Litigation. He received his undergraduate degree in English from Indiana University in 1975 and his law degree from IU in 1978, graduating magna cum laude. Admitted in both Indiana and Kentucky, Shoulders is an accomplished trial lawyer with sub-specialties in school law and appellate practice.
Shoulders has served IU with distinction and has been a trustee of IU since Jan. 1, 2002. He is a past national president of the Indiana University Alumni Association and the IU College of Arts & Sciences Alumni Association. He also currently serves as a director of the IU Foundation and is a past member of the Board of Governors of the IU Center on Philanthropy and the Indiana Public Policy Institute.
Shoulders has served the legal profession as president of the Evansville Bar Association, as chair of the Litigation and Citizenship Education Committees of the Indiana State Bar Association, as chair of the Fellows of the Indiana Bar Foundation, and as a member of the State Bar Associations Board of Governors from 1998-2000. He is the recipient of the Evansville Bar Association's highest honor-the James Bethel Gresham Award, in recognition of his service to the legal profession, and is a distinguished barrister in The Indiana Lawyer publications.
Shoulders' volunteer activities in southwestern Indiana have been numerous. He served as president of the Evansville Parks Foundation, Museum of Arts & Sciences, and the YMCA, chair of the WNIN Auction, founder & director of the Arts Fest 12K River Run, a member of the Board of Park Commissioners and a member of the Evansville Convention and Visitor's Bureau. He has served as a Civic Theatre Board Member, Public Defender Commissioner, and Member of the Mayor's Unification Study Committee. His volunteerism has earned him the Kentucky Colonel, Sagamore of the Wabash and the Indiana Bar's President's Awards.
Shoulders received the IU Bicentennial Medal in September 2019 in recognition of his distinguished service as a member of the IU Board of Trustees.